Source here.
Enrollment Is Up
On October 22, the WCET and Campus Computing Project released their 2009 Survey of Online Education. The report shows steady gains in enrollment. An impressive 94% of the schools surveyed reported increases in enrollment in their Web programs between 2006 and 2009. Furthermore, the climb doesn't seem to have been affected by the economic downturn. The numbers stayed strong over the past year, with 95% of schools reporting higher enrollment in fall 2009 than fall 2008. Schools are also optimistic about the future. A full 98% of respondents expect to continue to see gains at least through 2011.
The survey suggests that online education has finally 'arrived.' Once met with significant skepticism about quality and legitimacy, taking courses on the Internet is becoming a perfectly acceptable alternative to traditional campuses classes. The increase in popularity may be due to the convenience of the online format, and the fact that Web courses are much more accessible for working professionals. People are also becoming more accustomed to living their lives online, and learning is just another activity made easier by technology.
Costs Are Up Too
However, the Survey of Online Education also had some troubling news: Many students pay more tuition for online courses than they would for similar courses on campus. Almost half of the surveyed schools reported that tuition is higher for online students. Some students face a 10% or higher tuition hike just for taking classes on the Web. Almost one fifth of the colleges also reported charging additional registration fees for online classes, averaging around $230.
The survey offers various possible explanations for the imbalance. Because many of these programs are new and evolving - almost half of the respondents reported a major reorganization of program management in the last two years - production costs may be higher online than in established campus courses. Universities may also be adding out of state charges for long distance students. Finally, many state governments offer colleges lower reimbursement rates for online students, forcing the schools to increase tuition to make up the difference.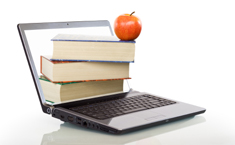 The survey has confirmed rising suspicions around the country about the costs of online education. In July, the Milwaukee Journal Sentinel reported that online students at the University of Wisconsin at Milwaukee were paying as much as $275 more in tuition per course than on campus students. And while there may be a good explanation for the difference, the numbers are perplexing among reports that schools don't even know if these programs are profitable. Although only 1.6% of schools surveyed reported a loss on online programs in the fiscal year ending June 2009, a full 45% simply checked 'unknown' in response to the question. Given the high degree of flux in program organization, it seems likely that the cost disparity will continue until the dust settles and schools can get a better handle on their online programs.
The news for online students isn't all bad, however. One third of the colleges reported matching tuition costs for online and on campus students, and one fifth actually reported lower costs for Internet courses. The most important lesson to be learned from this report seems to be to shop around when you're looking for online education options - another school may offer similar courses for a lot less.