Culinary Arts & Services - A LearningPath.org Guide
Culinary
Career
Paths
What Degree
Do I Need?
Editor's Note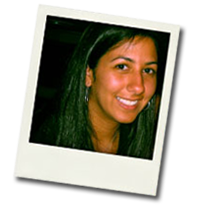 Dear Reader,
If you love food or maybe stood at your grandmother's side learning family recipes, you may be interested in the food industry. With 1.3 million jobs expected to be added in the restaurant industry by 2021, now may be the time for you to consider seeking a degree in the culinary arts, pastry arts or restaurant management.
At LearningPath.org, we understand the pressure when choosing your future career. This guide was assembled with your decision-making process in mind. Continue reading to learn insider tips for the field, certification needs and the different specializations that can help you decide if the food industry is for you. Once you've finished here, please check out our many other culinary arts articles that may aid in your decision.
We hope these pages help find your path.
Happy reading,



Citlali Tolia
Lead Editor, INSIDE Guides


The American Culinary Federation (ACF) pushed the U.S. Bureau of Labor Statistics (BLS) to change their definition of chef from a service position to a professional. They succeeded in 1976.
The Food Network is broadcast in over 96 million U.S. households each month.
Before becoming a chef, Julia Child worked as a communicator of top-secret documents for the U.S. government during WWII.
As of 2011, 69% of Americans say they prefer to eat at restaurants that use environmentally-friendly ingredients.
Entry-level cooks and wait staff can have big dreams. Nearly 80% of restaurant owners report humble beginnings in these positions.
Culinary Arts & Services

Jamie Oliver was born in 1975 and grew up in Essex, England. His passion for food is in his genes — he began working at a young age in his parents' restaurant. At 16 he went to the Westminster Catering College, then to France to apprentice.
Jamie's career is dedicated to cooking and imparting the knowledge of healthy eating. His 'Feed Me Better' campaign was started in the U.K. to provide students fresher and healthier lunches in an effort to fight obesity. After filming a series about U.K. schools, the British government granted an additional £280 million for better meal planning. Jamie has since extended his campaign to U.S. schools. He opened Fifteen — a restaurant chain that trains young unemployed/uneducated people to work in restaurants.
Along with humanitarian efforts, Jamie has a number of television shows, cook books and restaurants. His shows have been broadcast in over 100 countries, and showcase his appetite for rustic food and gardening. Jamie's love for simplistic, organic foods earned him the title the Naked Chef and recognition as one of the most famous chefs in the world.
Is a Career in the Culinary Arts for You?
While creativity is required for the culinary arts field, other traits are required. If 12+ of these traits fit you, culinary arts may be a good match for you.
Culinary Arts & Services

Sous Chef
Entry level of the culinary world is a sous (assistant) chef. You'll spend your time making the chefs' lives easier. You'll chop ingredients, clean meat, fill canisters and sharpen utensils. You may be in charge of making sauces or salads. When the chef is not present, you'll be in charge of carrying out cooking tasks and checking the quality of produce. Sous chefs may have different roles in different cooking environments. In a five-star restaurant, you may be an executive sous chef with many responsibilities. In a restaurant chain you may be the first stage of line cook, doing mostly grunt work.
Chef
As a chef, you'll spend your time cooking, baking and designing dishes. Less time will be spent in the dining room, with all your time in the kitchen. Chefs supervise the sous chefs and work with other chefs to guarantee meals are made in a timely fashion. You'll be in charge of sanitation and safety, guaranteeing other kitchen staff is practicing safety protocol and that food standards are met.
Executive Chef
Becoming the top chef in a restaurant requires years of experience. In some cases, you may be the owner of the restaurant, but prefer to remain in the kitchen. If this is the case, you'll likely hire someone to complete office duties. Working in the kitchen, executive chefs monitor chefs, sous chefs and meals. You'll likely handle the ordering of ingredients, selecting the menu and ordering equipment for the kitchens. You'll create new dishes, and guarantee that the plates look the way you designed them.
Food Service Manager
Typically, a food service manager is the owner or manager of a restaurant. Many chefs open restaurants to showcase their own recipes; however, you can also open a restaurant if you have a business background. Food service managers are in charge of chefs, assistant managers and staff. Along with making sure the kitchen runs smoothly, you'll be heavily involved in administrative tasks, such as payroll, scheduling, handling complaints, marketing and hiring staff.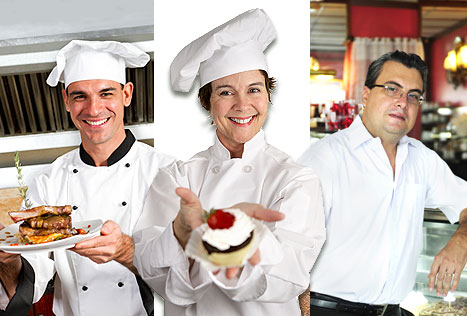 The Culinary Arts
With a career in the culinary arts, you can work in chain restaurants, cafes, diners or high-end restaurants. You'll cook meals that showcase the restaurant and its theme. You may be in charge of other chefs, inventory, food inspection, utensil and equipment inspection, cooking time management and meal cost estimation. As an executive chef, you may implement your own recipes at restaurants.
The Pastry Arts
Baking is sometimes considered an art form. As a baker, you'll measure and mix ingredients and follow recipes to exact specifications. You'll calculate weight and measurement differences for different size batches and use the chemistry of ingredients to create the desired pastry outcome. You'll often complete pastries with an artistic flare; you'll mold the pastry, shape cakes, add icing and decorative touches, cut designs in crusts and apply glazes.
Culinary Arts & Services
Butcher/Meat Cutting
As a butcher, you may specialize in one animal or many animals. You may own your own shop, work for a large grocery store or work in an animal processing plant. This is a messy job and you must be able to work with your hands. You'll be a first stop for chefs, slicing meats to certain thicknesses and prime cuts. A trusted butcher is important to chefs. Some chefs may ask you to tie-off roasts or trim fat and meat from the bone. You'll also inspect meat that comes into your department/shop and learn to estimate weight by hand.
Private Household Cooking
Working as a private chef is similar to working as a chef. The difference is that you'll work in the homes of clients instead of an industrial kitchen. This career requires excellent flexibility and communication skills. You'll work with clients to designate a budget, theme and nutritional needs. You'll need to be aware of your clients' tastes and be flexible to change a recipe to their specifications, allergies or budget. You must also be comfortable working in various environments, including indoor and outdoor kitchens.
Catering
Caterers and private chefs have a lot of similar traits. As a caterer, you'll need communication skills to work with clients, some who may be difficult. You'll need flexibility for recipes, cooking environments and budgets. Typically, you'll cook for parties, meetings, dinners, exhibits and other specialty parties. You'll work with clients to establish a budget and select meals or hors d'oeuvres for the get-together.
Restaurant Management
Managing a restaurant requires a background in business. You may have a culinary arts background, but to become a restaurant manager, you'll need human resource skills. You'll do scheduling, payroll, inventory, hiring, firing, counting money and complying with government regulations. You'll work with distributors, evaluate staff performance and investigate customer complaints.

Culinary Arts & Services


Entering the competitive field of cooking requires more than a passion for food. Often, becoming a chef requires experience, but to gain experience you must be a chef. The following are a few options to give you a leg up on competition and a way to beat the Catch-22.
Apprentice — When researching your certificate or degree program, consider one that has a built-in apprentice program. You'll study in an ACF approved kitchen, which provides hands-on training in a professional kitchen with a real team of chefs. You'll gain self-confidence, work ethics and creative skills that will lead to a successful culinary career. Apprentices are typically paid positions and meet requirements for certification.
Study Abroad — Many colleges offer externships, summer breaks and semesters abroad. Culinary programs are no different and allow you to travel to Switzerland, Italy, France, Germany, Thailand and many other countries.
Studying abroad not only provides an opportunity to learn another culture, history and language, but also teaches you cooking techniques, spices and dishes that would otherwise be lost to your culinary portfolio.
Learn Complementary Skills — Cooking and baking classes are available to both novice and experienced cooks. Many organizations, companies and institutes offer non-matriculated classes. These classes teach you how to bake if you're a chef, decorate cakes if you're a chocolatier, cook regional dishes and even pair wines with dishes. Classes provide social time while learning how to prepare food or preparing meals for the upcoming week.

Certificate
The certificate program in culinary arts is for someone who is interested in the culinary arts field in general. These programs typically teach the basics of cooking, sanitation, baking, catering, restaurant management, nutrition and menu planning. Food preparation programs typically involve making sauces, stocks, smoked meat, soups and entrees. You may work in a college café, which allows you to put your classroom techniques into practice.
Associate Degree
Associate degree programs are available in culinary arts, pastry arts and restaurant management at many community, technical and 4-year colleges. Depending on the program you choose, your subjects will vary greatly; restaurant management focuses on management, finance and organization, while pastry arts focuses on confections, icings, decorations and cost estimations. The culinary and baking arts programs are hands-on.
Bachelor's Degree
When seeking a bachelor's degree, consider additional avenues in which you may want to focus your career. With a bachelor's degree program you can consider science and management approaches to the food services. Some colleges offer culinary nutrition, which enables you to cook nutritious and delicious meals. With many food allergies and intolerances in the world, there is a larger market for nutritious foods designed around food limitations, such as gluten-free breads, lactose free ice cream and peanut-free sandwich spreads.
Master's Degree
A master's degree program in hospitality and restaurant management teaches you the skills for working in a human resource-centered environment. These programs train you in the business end of the food services field. Some colleges offer a program in food science with a hospitality focus. After graduation you can seek employment in almost any hospitality industries, including restaurant, hotel, casino and bar management.

How Can I Become a Caterer?
Catering skills often fall under restaurant management programs. While cooking skills are imperative to becoming a caterer, you must also have a good background in business. As a caterer, you'll typically have your own business, so financial, marketing and management skills are important. Consider studying culinary arts in an associate degree program and then moving on to a bachelor's (or master's) degree program in restaurant management.
How Can I Get Involved with Other Chefs?
An excellent way to meet other chefs is to take part in continuing education programs, conferences and competitions. The ACF puts on culinary competitions, which allow you to show off your skills, network with other chefs and earn awards to boost your resume. These competitions are typically regional, so be sure to check the ACF competition calendar for competitions near you.
What Is the Job Outlook for Chefs?
The culinary and pastry arts are very competitive fields. Once you've graduated with your certificate or degree, you'll find that the job market is difficult on new chefs. In fact, the BLS didn't project a change in the job market for head chefs between 2008 and 2018 (www.bls.gov). The BLS does state that this profession has a high turnover rate due to the fast-paced, lengthy shifts which could even out job opportunities.
Culinary Arts & Services



ACF offers scholarships in the names of Linda Cullen, Andrew Macrina and Stanley Jensen. You must be a high school senior with a 2.5 GPA and be accepted to a culinary program to apply. ACF judges your application on a point system with points given for competition and ACF involvement and your GPA.
The purpose of this scholarship is to reward chefs who are heavily involved with volunteer work. Eligibility requires you to be nominated by the non-profit culinary organization you are involved with. You must also be a student or chef who is continuing your education.
The National Restaurant Association Educational Foundation provides scholarships to high school and returning undergraduate students, and educators who want to work in the food industry. Included are Rachel Ray's Yum-o!, Al Schuman Ecolab Entrepreneurial and Professional Development scholarships.
The James Beard Foundation works with Scholarship America and colleges to give scholarships and grants. Students are evaluated through GPA, competition and volunteer involvement, reference letters and financial need.
Culinary Arts & Services