Business Management and Operations - A LearningPath.org Guide
What Degree
Should I Earn
INSIDE
track
Get Money for School:
Business Scholarships
Editor's Note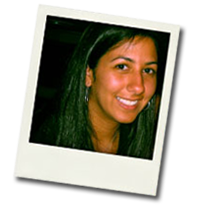 Dear Reader,
The business world is fast-paced and constantly in flux, so it can be challenging to determine the best way to enter this exciting environment. Whether you want to set out on your own, or ascend through the ranks of an established company, a clear assessment of your goals and abilities should help to guide you into a position and field where you can succeed.
At LearningPath.org, we believe that access to straightforward, unbiased information is crucial to making optimal educational choices. We have written INSIDE Business Management and Operations to provide you with the resources you need to find your niche in the business world. If you find that you need more information, we invite you to browse our extensive collection of articles about careers in business.
We hope these pages help you find your path.
Happy reading,



Citlali Tolia
Lead Editor, INSIDE Guides

Quick Facts
In 2008, 80% of business managers worked more than 40 hours per week.
Most large businesses provide ample opportunities for continuing education to their employees. Many even offer some form of tuition assistance.
There were over 2 million top executives in American business in 2008.
Managers in advertising, marketing, promotions and public relations are high visibility candidates for advancement to top ranks in business.
Most management personnel travel for work on a regular basis.
Many successful top business executives did not complete a college education and were promoted from within the organization based on skill and experience.
Business Management and Operations
Is Business Management for You?
Business and operations managers have certain personality traits that make them particularly well-suited to this kind of work. If you check 12+, a career in business administration may be a great option for you!
Business Management Job Options
Management Trainee
Many managers come into the workforce via trainee positions. You might start such a program after obtaining a certificate or associate's degree in business administration, or you may not need any formal training at all; that depends a lot on what your employer's looking for. Either way, you'll often spend your time training by learning about the operations of the various departments or branches of your organization. The duration of these training programs can vary drastically depending on the job you take and the size of your company.
Department/Assistant Manager
Once you've completed your training, your next move will probably find you in the role of assistant or department manager. Specific responsibilities depend on your organization, but duties could include overseeing shifts of workers (in a retail or industrial setting, for instance) or handling one aspect of a business, such as finances or marketing. Though work experience (possibly combined with a certificate or associate's degree) may be enough to become an assistant manager, some companies may seek candidates who possess a bachelor's degree in business administration.
Business Management and Operations
General Manager/
Chief Executive
General managers and executives oversee the entirety of a business' operations. Such a position usually requires substantial work experience as well as a bachelor's degree in business administration or even an MBA. Here, your responsibility will run high, but so will your potential for reward: top executive positions are typically very highly-paid positions and come with many benefits. However, competition for these jobs is also very high, leading to a limited number of opportunities.
Management Consultant
On the other hand, job opportunities abound in the field of management consulting. In fact, the U.S. Bureau of Labor Statistics reports that consulting services will be the fastest-growing job industry over the next decade. Consultants work as contractors to companies who need help managing themselves; they outsource their services and considerable expertise to clients willing to pay for it. Management consultants, even those who don't run their firms, typically have previous experience in executive decision-making and often possess an MBA.
Entrepreneur
For some, the last step in business management involves starting one's own company. You may decide that you want to be your own boss and begin your own organization, be it a retail store, a manufacturing company, a consulting firm or something else. Since anyone can start a business, there aren't any specific training requirements, but entrepreneurs may be most successful after accruing significant experience in the business world as managers or executives for other companies. Entrepreneurship comes with little to no job security, but the freedom it affords can be very rewarding to those who work at it.
Career Paths by Specialiazation
Business runs the world, which means career possibilities in management and operations are almost limitless. Here are some positions that might interest you.
Marketing, Advertising, and Public Relations Managers
Of all areas of commerce, marketing and PR give you the greatest opportunity to marry creative energy with sound business practices. You handle branding, promotions, public image and marketing strategies to create a memorable customer experience for your company.
Work in this field is generally highly competitive; most companies look for candidates with a bachelor's or master's degree. Big agencies are currently engaged in heavy recruiting of women, who represent a huge consumer base. A background in advertising, business, public relations or journalism is desirable. Working hours can be long, but are generally well compensated. Wages vary considerably, but a job with a good firm can easily yield a 6-figure income.
Purchasing Manager or Buyer
If you are drawn to getting the best possible deal – the highest quality product or service for the least amount of money – purchasing may be a good field for you. This line of work includes retail buyers of clothing, food, and electronics; managers who contract for services such as transportation, technical services, or cleaning; or any number of other material or service-oriented commodities. One of the most important parts of the job is evaluating suppliers, so you'll probably be reading trade journals and going to conferences as part of your job.
You'll need at least a bachelor's degree with a solid business or technical background depending on your area of interest. On-the-job training and continuing education are very important in this field, and if you want to achieve a top-level management position you may need to get your master's degree. Purchasing managers earn an average of $90,000 per year; buyers and purchasing agents earn about $50,000.
Business Management and Operations
Financial Analyst
Are you interested in investments, with an eye to helping businesses succeed? Working as a financial analyst allows you to put your business and economic savvy to work advising businesses on investment strategies. A bachelor's or master's degree in business, finance, accounting or economics is generally needed for this job. You may need to get certified or licensed in your state as well. Average wages for financial analysts range from $75,000 to over $100,000 annually, depending on the field of specialty.
Administrative Services Office Manager
If you are good at organizing and multi-tasking, have strong communication and leadership skills and are comfortable working under deadlines, administrative support services
management may be a good field for you. Office managers can handle all aspects of support services or a single area of a large corporation's administrative load, such as mail, telecommunications, wellness or records.
Some office managers only need a high school diploma or associate's degree, but most large companies require a bachelor's degree. Job growth should be steady, with strong competition for high-level positions. Wages vary greatly by company and location, but the median annual wage for corporate administrative services managers is about $75,000.
Out of the Office
Most business management professionals interested in leaving a traditional company job will look at teaching, consulting or business ownership as attractive alternatives.
What Fields Can I Work In?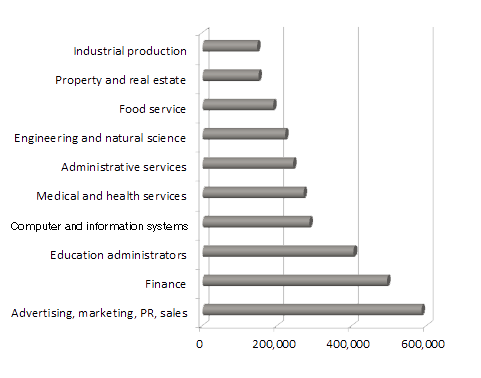 Business Management and Operations
Inside Track
Because a degree in business administration opens the door to a wide range of career paths, it often takes a generalist approach to many of the skills and fields of knowledge students develop. However, students that actively find ways to complement their degree's required skill set can develop a valuable competitive edge in the job marketplace.
Below are some steps to take in school that will increase your marketability when you start job-seeking:
Get a Relevant Minor or Double-Major – A degree in business administration covers a variety of subject matters, so choosing a complementary minor or a second major can help you build additional areas of knowledge that will distinguish you from the masses. For instance, a minor or second major in information systems management or accounting can make you a much stronger candidate for companies and positions that require or utilize that area of expertise.
Master a Foreign Language – Having fluent or close to fluent knowledge of a foreign language can be a big selling point if you are interested in joining companies that target international markets or have international client bases. As our economy becomes more globalized, people who have an understanding of other languages and cultures are increasingly valuable assets.
Join the Club – Many universities have student chapters of professional business organizations (Future Business Leaders of America, Hispanic Student Business Association, Black Business Students Association, etc.). Joining these organizations can help you develop your leadership and communication skills and allow you to make valuable career connections.
What Degree Should I Earn
Certificate Programs in
Business Administration
There are many different types of certificate programs designed for business managers. These programs are meant to give you a brief crash course (usually between three and eight classes) in issues important to operating a business. Some programs focus their sights on specific topics such as human resources, marketing or banking. Others are designed with a more general curriculum in mind. If you're a high school graduate looking for a little education before beginning a career in business, the latter may be more helpful to you. If you've already established yourself but need to fortify your knowledge on a certain topic, you might consider the former specialized curricula.
Associate's Degree in
Business Administration
Associate's degree programs in business administration are 2-year programs that combine basic business courses like economics and marketing with general education classes
in math, science and the humanities. They may be designed for working professionals; if you already have a career in business but want to bulk up your resume or learn a few new tricks, an associate's degree program might be right for you. Additionally, these programs often allow and even encourage you to transfer the credits you've earned in the associate's toward a bachelor's degree.
Bachelor's Degree in
Business Administration
Bachelor's degree programs in business administration take four years to complete. They're designed to prepare you for executive positions in many different business settings or for an entrepreneurial endeavor. Often, they'll let you tailor your education by taking classes suited to your needs. You could enroll in a bachelor's degree program having no prior experience in the business world, or you might decide to earn a degree later, after establishing yourself as a professional.
Business Management and Operations
Master of Business Administration (MBA)
If you're already entrenched in the business world and are looking to gain a competitive edge to advance your career, earning an MBA might be right for you. These graduate-level programs typically last two years and include intensive seminars on key business topics like leadership, ethics and organization. A thesis project or internship may be offered but is not always required.
Doctor of Business Administration (DBA)
DBA programs require about 60 credit hours of work, split between classroom instruction and dissertation research. They are designed to teach you both advanced business practice and theory in addition to practical elements.
These programs are meant for working professionals seeking a mastery of the business field once they've already made significant headway into it.
Doctor of Philosophy (Ph.D.)
in Business
Ph.D. programs in business combine business and liberal arts curricula and focus on the theory behind current business practices. These programs include significant research in the field and are designed for people who want an academic career in the business world (i.e. teaching business courses at the collegiate level). These programs often take four or more years to complete. Similar to the DBA curriculum, you must present a dissertation of original research before completing your Ph.D. program.
The Career Wizard
What kind of degree do I need to be a business manager?
The educational requirements for managers are determined by the specific industry, size of the business and your employer's policies, among others. For instance, many food service managers attain their positions through restaurant experience instead of formal education. In contrast, managers of financial institutions usually need at least a bachelor's degree to hold their job. Since degrees in business administration are available at many different levels, you can benefit from enrolling in a certificate or associate's degree program even if your particular job doesn't require any formal education.
As a business manager, what's my earning potential?
This varies significantly by industry. For instance, the U.S. Bureau of Labor Statistics (BLS) reported that food service managers earned a mean annual salary of $51,400 in May 2009. Comparatively, financial managers earned an average salary of $113,730. Regardless of your industry, though, managerial positions increase your earning potential. For instance, compare the $51,400 earned by food service managers to the annual mean salary of $20,380 brought home by waiters, or the $94,180 average salary earned by financial advisors to the $113,730 earned by financial managers.
What kind of job competition will I face?
Job competition can be fierce, especially as you move up the corporate ladder. For instance, because of high pay and prestige, top executive positions attract a large number of applicants, making it difficult to secure such a job. Furthermore, executives typically transfer from one high-ranking position to another, making entry for newcomers relatively difficult. However, as with many jobs, a combination of significant work experience, good education and a marketable skill set should give you a smoother path into executive positions.
Business Management and Operations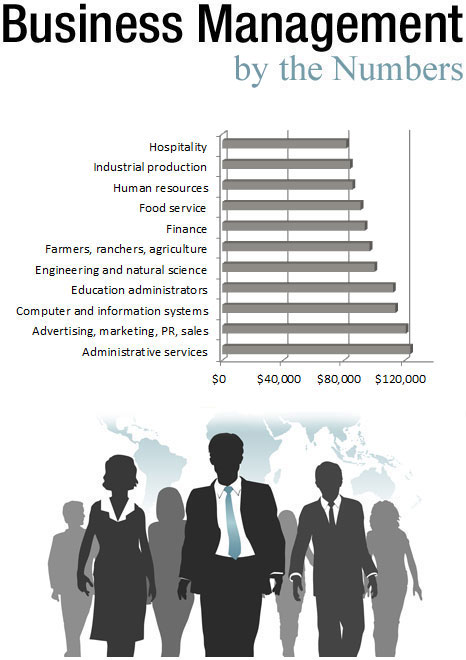 Get Money for School
NASE offers a number of options in scholarship and grant awards. NASE members can apply for continuing education aid and growth grants. Dependents of members in good standing who have an active interest in entrepreneurship can apply for undergraduate aid. These scholarships award up to $24,000 over the course of four years of undergraduate study.
Graduate Business Management Award
Education-Portal.com offers a $500 academic award to students pursuing Master of Business Administration degrees at accredited colleges or universities. Selection is based on academic achievement and extracurricular activities.
Zonta is dedicated to overcoming gender barriers for women in education and leadership. In order to be eligible, students must be pursuing a business-related degree at the undergraduate or graduate level. Online study is also acceptable. District awards are $1,000 each; twelve international scholars receive $5,000 each.
Students pursuing cost management, business or engineering are eligible to apply to this scholarship. Amounts awarded vary between $2,000 and $8,000 and are based on academic and overall achievement.
The Hispanic College Fund awards are given to Hispanic students pursuing undergraduate and graduate degrees in business, hospitality management and computer sciences. Criteria vary, and awards range from $500 to $5,000.
The Direct Marketing Educational Foundation awards a number of scholarships to undergraduate and graduate students. Awardees must be pursuing studies in direct or interactive marketing. DMEF is awarding $75,000 for the coming academic year.
The American Bus Association offers a number of scholarships that focus on the business of transportation, operations, travel or tourism. Awards are $2,500, with varying eligibility requirements.
Business Management and Operations