Construction - A LearningPath.org Guide
Is Construction
the Field for Me?
Apprenticeship &
Certification FAQs
Top-Growth
Construction
Careers
Editor's Note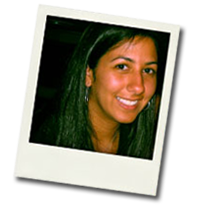 Dear Reader,
Whether you enjoy working with your hands, following detailed instructions or planning a complex project, the diverse construction industry may hold the dream job for you. As the U.S. population continues to grow and infrastructure needs to be renovated or replaced, your skills and services will be in demand for favorable construction employment opportunities.
At LearningPath.org we know that navigating a diverse job market can be difficult. That's why, in this guide, we've carefully researched the construction facts and figures so you can make informed decisions as you explore the details. You can also explore our site's wide range of construction-related articles.
We hope these pages help you find your path.
Happy reading,



Citlali Tolia
Lead Editor, INSIDE Guides

Quick Facts
Employment opportunities should be good, especially for workers with experience and skill, with construction jobs growing by 19% over the 2008-2018 decade.
Many workers, at all different career levels in the construction industry, are self-employed.
Construction managers often have extensive work experience along with a bachelor's degree in construction management, business administration or a related field.
The construction field offers a diverse range of jobs from carpenter to facility manager.
Many skilled construction workers, such as electricians and plumbers, complete apprenticeships under experienced professionals.
Construction
Is Construction for You?
Certain qualities may help you succeed in the construction field. If you check 12+, then construction could be an excellent opportunity for you.
Career Levels
Construction is a big industry that supports a variety of occupations. Because there are numerous aspects and steps to the construction process, you can choose from many career level options and specialties. Below are four of the more common job options in the construction trade.
Construction Laborer
As a construction laborer, you may perform general construction tasks, which are often physically demanding. Construction laborers may work in a range of settings, from residential lots to demolition sites. Your tasks can involve removing debris, putting up scaffolding, setting up barricades, unloading building materials and operating construction equipment. While much of this unskilled labor can be learned through on-the-job training, you may have to undergo more extensive training for specialized construction tasks.
Trade Workers
These skilled workers have experience in one of the construction trades at the apprentice, journeyman or master level. This is a broad category that can include carpenters, electricians, masons, plumbers and roofers. Based on your specific occupation, you may focus on a construction building's initial framework, finished appearance or operational mechanics. Many trade workers develop their skills through apprenticeships, which typically last 3-5 years and include on-the-job training as well as classroom instruction.
Construction
Construction Inspector
As a construction inspector, you check whether or not buildings and facilities are in compliance with codes, safety requirements, zoning regulations and contract agreements. Your inspector involvement can take place during different points of a construction process, from before the structure is built to after its completion. Additionally, many construction inspectors concentrate in a specific project area, such as monitoring a building's electrical, elevator or plumbing systems or inspecting public works. Although many inspections are visual, you may use measurement instruments and record findings to compare with the results of follow-up visits.
Construction Manager
Many construction managers have a bachelor's degree in a construction-related field along with professional work experience. As a supervisor, you're responsible for the planning, coordinating, hiring and budgeting for a given construction project. These projects may be for residential, commercial or industrial structures, and some managers may focus on overseeing a specific aspect of the project, such as site preparation or heating system installation. Construction managers may not do any actual construction, but they typically make frequent visits to construction sites to ensure that deadlines and specifications are being met.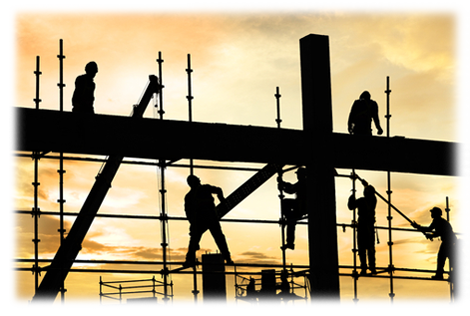 Construction Employment Projections
Construction Workforce Percentages
Construction
Self-Employed Construction Workers
Pay by Construction Trade
Median Hourly Pay by Occupation in 2008
| Occupation | Hourly Pay |
| --- | --- |
| Construction Manager | $38.39 |
| Plumber | $21.94 |
| Electrician | $22.32 |
| Carpenter | $18.72 |
| Construction Laborer | $13.71 |
| Metal Worker | $20.68 |
Source: bls.gov
Construction Trade Specializations
Carpenters
Carpenters build, repair and modify the wooden framework and fixtures used in a construction project. As a carpenter, you may use your craft for many different tasks, from sculpting furniture to erecting scaffolding. You typically measure, shape and piece together wooden parts by following a blueprint as well as making any necessary adjustments to ensure your finished carpentry meets specifications.
Electricians
If you're drawn to circuits, transformers, wiring and electronic intricacies, then
becoming an electrician may be a good construction career path for you. You may install wiring as well as maintain and upgrade power systems in a range of construction settings. After you finish honing your skills under a more experienced electrician, you're free to practice your trade on your own, although many electricians work for contracting firms.
Plumbers
Most commercial and residential buildings need water and waste disposal systems, and plumbers provide this valuable service by installing, maintaining and remodeling the fixtures and pipes associated with these systems. Most plumbers, like electricians, typically complete comprehensive apprenticeship programs that include paid on-the-job training and classroom courses.
Metal Workers
Metal workers, often called ironworkers although they mostly work with steel, install girders, columns and other metal supports for a variety of structures.
Construction
Ironworkers may also assemble cranes and other machinery used to move structural supports around the construction site. As you assemble these metal pieces according to blueprints, you may use welding and riveting techniques. Your training for a career in metal working typically involves an apprenticeship, which lasts 3-4 years and is administered by a trade association or contractors' organization.
Subcontractors
As a subcontractor, you may do some of the work on your own as well as manage other employees. For example, an experienced electrician may start his or her own subcontracting business and employ other electricians to help with a construction project. Subcontractors are
often hired by construction managers to provide services in one construction specialty, such as drywall, painting, plumbing or electrical work. Depending on your subcontracting trade, you may need to be licensed.
Facility Manager
These management professionals often have a bachelor's degree or higher in facility management, architecture, business administration or a related field. Facility managers monitor and maintain a building as well as its grounds, equipment and operations. In addition to directing facility personnel, budgeting and building safety, you can schedule and initiate renovation projects. Becoming a certified facility manager may improve your job prospects.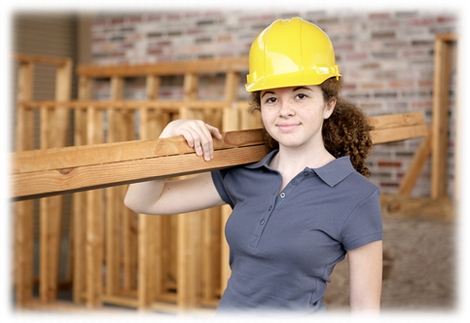 The Career Wizard
Do I need certification?

Many construction trade certifications are voluntary, but they can improve your job prospects by providing evidence of your skills and qualifications. For construction managers, being certified has become increasingly important. Plumbers can earn certification in water-saving technologies to make themselves more marketable to employers. Carpenters, electricians and metal workers can earn certifications that qualify them to perform a wider range of tasks.

What professions offer apprenticeships?

Most electricians, metal workers and plumbers enter their fields by completing apprenticeship programs that can last from 3-5 years. Carpentry apprenticeships are available but less common. An apprenticeship typically provides comprehensive preparation by combining paid on-the-job training with classroom instruction. As an apprentice, you work under the supervision of an experienced practitioner, and these training opportunities are often offered through unions and contractors' associations.

How is my job outlook?

The overall job outlook for the construction industry is favorable, but job projections for the 2008-2018 decade vary by profession. If you're considering a position that requires little training or experience, such as general laborer, you may face higher competition. Average job growth is predicted for facility managers, electricians, carpenters and metal workers. Plumbers, construction inspectors and construction managers should have faster than average job growth.
Construction
Professional Organizations
Construction professional organizations can provide training, certification and networking opportunities for your career development. Below are a few of the many organizations associated with the diverse construction industry.
The International Code Council publishes an extensive set of building safety standards, which have been adopted by all 50 states. They also offer a wide range of certifications for construction inspection professionals.
The International Facility Management Association recognizes certificate programs in facility management and provides certification to professionals in the field.
Construction managers can earn certification through the Construction Management Association of America, which orchestrates conferences and continued professional development.
As a national association, Associated Builders and Contractors covers all specialties in the industry. This organization consists of construction firms throughout the country and offers education, insurance and business development benefits to its members.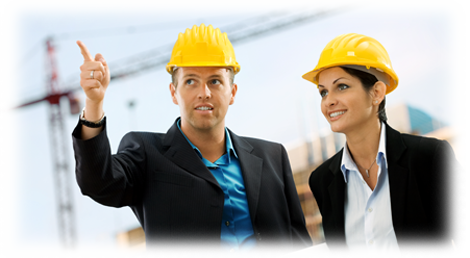 Construction Certification and Licensing
The construction industry is a diverse field with a variety of certification and licensing options. The options below represent only a small sample, so be sure to research your state agency's licensing requirements for your profession.
As a practicing facility manager, you can earn the certified facility manager (CFM) credential through the International Facility Management Association. You will need to meet a combination of education and experience requirements before passing the CFM exam.
As a construction inspector, you can seek a variety of certifications through the International Code Council (ICC), based on your career goals. These certifications can range from fire safety systems to environmental standards inspection.
Construction managers, who meet the education and experience requirements, can choose from several certification options, such as the certified professional constructor or the certified construction manager credential.
Most states have licensing requirements for electricians and plumbers, which includes years of experience and passing a state-approved exam. Plumbers who work on gas lines and electrical contractors may need to obtain special licenses.
Construction
INSIDE Track
Because the construction industry encompasses many specialties, you may want to consider and research your career path carefully. For many of these professions, you can help your job prospects by acquiring a combination of education and experience. Below are some ideas to consider as you gain entry into the field.
Earn Management Certification
Whether you want to help create the next commercial skyscraper or direct a residential renovation project, having the credentials to support you manager status may help you land more construction contracts. Certification titles can be a valuable commodity because they demonstrate the combination of education and experience that many prospective employers value.
Construction Trade Experience
From carpentry to electrical work, experience matters. If you're planning on entering the construction field as a skilled trade worker, consider an apprenticeship program. While these programs can take 3-5 years to complete, they allow you to gain plenty of experience through paid on-the-job training and formal instruction. You can find registered apprenticeships for your profession through the U.S. Department of Labor.
Explore Green Construction
Although the recent economic downturn has affected some areas of construction, green or environmentally friendly construction has grown in popularity. Whether you're a facility manager trying to increase the energy efficiency of your building or a plumber utilizing water-saving technologies, your services can help reduce energy costs for companies trying to save money.
Construction Degree Options
Associate's Degree in Building Inspection
These 2-year programs focus on building, electrical, mechanical and plumbing codes as well as blueprint reading, construction safety and surveying. Completing an associate's degree program in building inspection can prepare you for a career as a building
inspector or a plans examiner. You can typically find these programs at community colleges, and your college credits can count towards experience as you seek an entry-level job in the field.
Bachelor's Degree in Facility Management
As a student in one of these programs,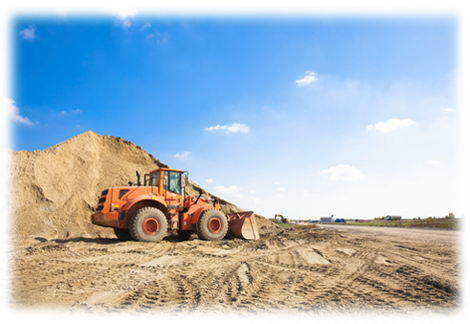 Construction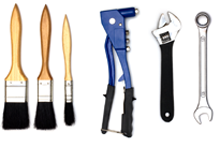 you may take courses in property development, technical writing, macroeconomics and space design in addition to management skills. These bachelor's degree programs can also focus on the different types of planning required by a facility's changing environment. You may also want to consider programs that have been accredited by the International Facility Management Association.
Bachelor's Degree in Construction Management
Although you can choose from many construction management degree programs, keep in mind that many managers have at least a bachelor's degree. Your courses in a bachelor's degree program may cover quality assurance, construction technology, safety regulations, project planning and cost estimation. Graduates may end up working as construction managers, subcontractors and construction
inspectors. You may also choose to focus on commercial, industrial or residential construction in some programs.
Master of Business Administration
If you're interested in higher-level construction management positions, completing a Master of Business Administration (MBA) degree program may give you the edge over other job seekers. You will need to have a bachelor's degree to be eligible for an MBA program. You may complete coursework in finance, operations management and business strategy.
Get Money for School
The American Institute of Steel Construction offers scholarships to undergraduate and graduate students who are enrolled in a construction-related engineering or construction management program. The awarded amounts can vary from $2,500-$5,000.
The Construction Management Association of America awards scholarships to graduate and undergraduate students enrolled in a degree program for construction management or a related field. Applicants are evaluated primarily on their academic performance, and amounts are typically $3,000.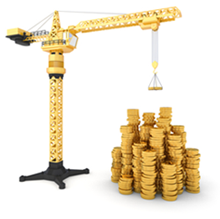 Scholarships ranging from $1,000-$5,000 are awarded by Allied Construction Industries to full-time students pursuing a construction management or construction-related degree. You must have completed a full year of coursework and intend to pursue a construction career to be an eligible applicant.
The International Facility Management Association awards merit-based scholarships to undergraduate and graduate students enrolled in facility management degree programs. Awards are at least $1,500, and recipients must attend the IFMA World Workplace conference.
Construction