Financial Aid - A LearningPath.org Guide
Financial Aid
Checklist
Financial Aid Timeline
Q
&

A

Get answers to financial aid questions
Editor's Note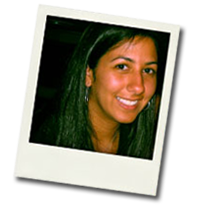 Dear Reader,
It's no secret that education is necessary in today's world, but its cost can be high enough to be prohibitive. This is where financial aid steps in - it's available to those who need it, and it exists to help make the cost of college tuition and fees more affordable.
Who hasn't been frustrated and overwhelmed by the complexity of all the forms required and the multiple deadlines to keep track of when applying for financial aid? Because of this, LearningPath.org has developed the INSIDE Financial Aid guide to put the most important information in one easily accessible place. Billions of dollars are allocated for student financial aid each year; we want you to get your share!
We hope these pages help you find the financial resources you need to afford the education you want.
Happy reading,



Citlali Tolia
Lead Editor, INSIDE Guides

Financial Aid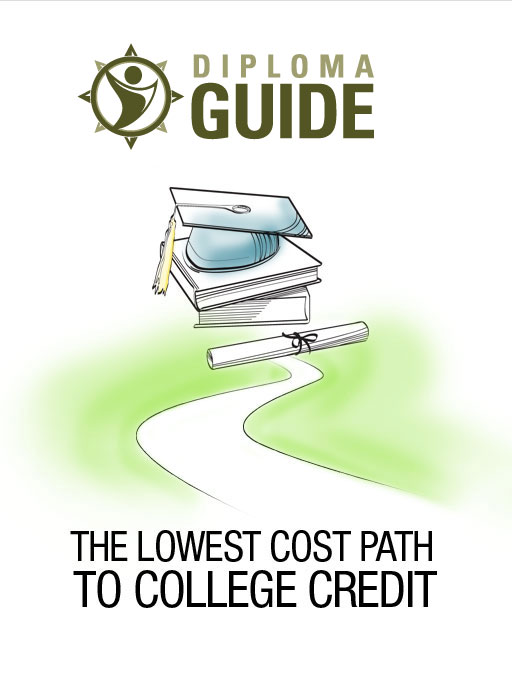 Contents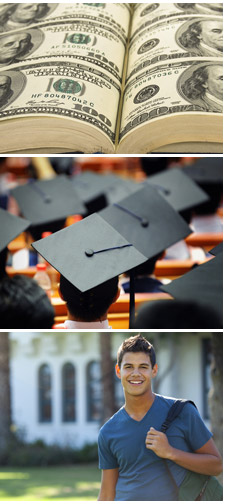 Financial Aid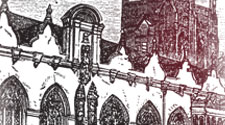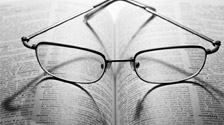 Some academically gifted individuals have received college scholarships at young ages. For instance, Katherine Blodgett received a Bryn Mawr College scholarship in 1913 when she was 15 and Anne-Marie Imafidon was awarded a math scholarship to John Hopkins University in 2003 when she was only 13.
Of all the students who didn't have any debt when they graduated, 85% had attended a public college or university.
States like Minnesota, Montana, North Dakota, South Dakota, Utah, Wisconsin and the Virgin Islands have the lowest student loan default rates in the country.
Schools are now getting social media involved in the scholarship application process. The University of Iowa Tippie College of Business recently awarded a $37,000 scholarship to the person with the best tweet answering why they'd be a good MBA candidate.
Scholarships can revolve around more than just academic interests or achievements; some scholarships have been awarded because a person had a certain last name, was a twin, wrote with their left hand, was tall or excelled at duck calling.
Financial Aid
Top 10 Schools for Merit-Based Scholarships
One source of financial assistance is school-based scholarships, including those based on merit. If you think you have what it takes to earn a merit scholarship, you could be interested in one of the schools listed below that give out such awards. A U.S. News and World Report article indicates that several universities award scholarships based on merit and not financial need: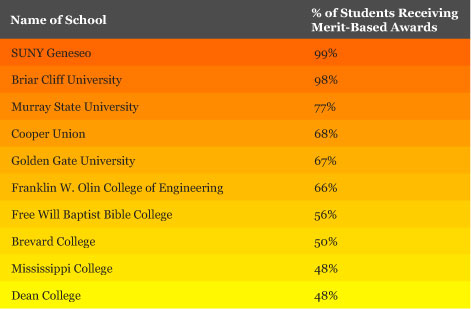 The Many Faces of Financial Aid
Financial aid can come in many forms and from a great number of sources; below we break it down by the main sources of aid and how they work. Use this information to help you determine what forms of aid are right for you and how to get started seeking them out.
Federal
Federal Financial Aid
If you're a student getting ready to go to college, chances are you'll need some type of financial aid to help you pay for your degree. Federal financial aid can mean getting scholarships, taking out student loans and being part of work-study programs. Funded largely by the U.S. Department of Education, these government programs help primarily low and moderate-income families pay college tuition. They can also contribute to some of your related expenses like supplies, books and room and board. Other federal financial aid sources include Americorps, the TEACH Grant, the Department of Veterans Affairs, the Department of Labor and the Department of Health and Human Services. About 14 million federal student aid applications are processed annually in the U.S.
Federal Direct (Stafford) Subsidized Student Loans
If you're looking for financial assistance to fund your college education, you might be eligible for subsidized student loans from the government or a bank. Of course, your loan must always be repaid, but no interest is accumulated on this type of loan while you're attending school at least half-time. Interest is also not charged during deferment or grace periods.
As of 2011, interest rates for subsidized loans were fixed at 3.4%. Your financial need will be determined by totaling your expected family contribution (EFC), your estimated loan amount and any other financial aid. If the total amount of aid is less than the cost of attending college you can demonstrate financial need for educational funding.
Financial Aid
Federal Direct Unsubsidized Student Loans
If you have to take on an unsubsidized student loan instead, you won't have to prove financial need. Keep in mind, though, that this type of loan immediately begins accumulating interest. Fixed interest rates for undergraduate and graduate students were 6.8% as of 2011. By paying the interest during your school years as it accumulates, you'll prevent an increase in the total loan amount that you must repay after college. The dollar amount that you can borrow will be determined by your school. You might want to consider an unsubsidized loan if you weren't approved for all the monies
you requested in subsidized loans, or if you were denied other types of financial aid altogether.
Federal Supplemental Educational Opportunity Grant
The FSEOG could be an option for you if you're an undergraduate student with great financial need and whose family has a low EFC. This grant does not have to be repaid. Students who receive Pell Grants are given first consideration for the FSEOG. The amount of your award depends on factors such as available funding at your school of choice, the school's financial aid policies and your level of financial need.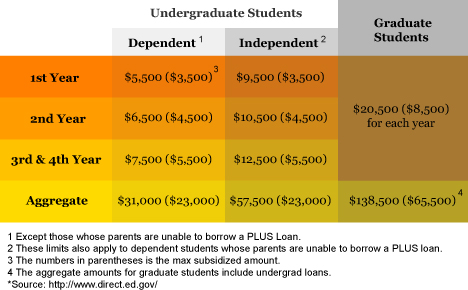 Federal Pell Grant
If you're an undergraduate student with neither a bachelor's nor a graduate degree, you may qualify for a Federal Pell Grant, which doesn't have to be repaid. Aside from financial need, Pell Grants are dispersed based on your status as a part-time or full-time student, the cost of your education and on your intention to attend school for an entire academic year. As of 2011, the maximum allowable amount of Federal Pell Grants was $5,550.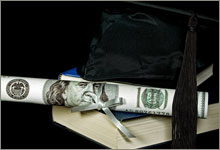 Federal Work-Study Program
Once you start school or are at least accepted, you might be able to earn money for college while working part-time though the FWS program. Your college or university must be a program participant. You have to earn no less than the current minimum wage. You might get an on-campus job in areas such as the bookstore, cafeteria or library. Off-campus opportunities include community service jobs for non-profit organizations and private, for-profit companies.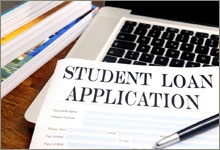 Your financial need and family size are a couple of the factors considered to determine if you can participate. Monies do not need to be repaid. Unlike other part-time jobs, these positions could afford you more flexibility to complete your studies, since your class schedules and even academic progress are considered when determining your working hours. You'll receive a regular paycheck from your employer, although pay schedules may vary.
Schools
School-Sponsored Scholarships
Colleges and universities offer assistance in the form of grants, merit awards and scholarships that can also help you fund your education. You could be selected based on your artistic abilities, academic performance or athletic talents. Postsecondary schools are continually seeking promising students and many offer merit scholarships as a way of enticing you to attend their institution. It may or may not be necessary to demonstrate financial need for merit
Financial Aid
scholarships. A number of schools also offer institutional grants based on your family's ability to pay for education.
Independent
National SMART Grant
Are you planning on majoring in mathematics, engineering, technology, life science or computer science? If you are, you may qualify for the National Science and Mathematics Access to Retain Talent (SMART) Grant. You must be at least a half-time student in your junior or senior year of undergraduate school, and you must also be eligible for the Pell Grant.
Private
Private Scholarships
Scholarships can give you anywhere from a few hundred to several thousand dollars to help pay for college, and the best part is that you don't have to repay this money. Private scholarships are established and offered by corporations, government agencies, religious and social organizations and private individuals. To receive one of these awards, you'll often have to meet eligibility requirements determined by the scholarship sponsor, such as majoring in a particular subject or maintaining a specified grade point average. Scholarships could also be awarded to you based on things like your year in school, having a disability, your heritage, your membership in an organization, the area you live in or your gender.
Private Loans
Banks and other private lenders give private or alternative loans that might always be a way you can help fund your studies. Several types of private loan programs exist, but these should be a last resort for you while you're seeking educational financial assistance. Private loans are riskier and more expensive because they aren't backed and regulated by the government and interest rates are higher. Eligibility is often based on your credit history, and troubled histories can result in costlier loans. Private lenders might also require a co-signer for you to be able to get the loan.
Federal Perkins Loans
If you're still trying to meet all of your financial needs and still need to take out loans, you might be interested in the Federal Perkins Loans, which offer lower interest rates. These loans can be applied to your undergraduate, graduate or vocational studies. In 2010, there were 490,139 new applicants to the Federal Perkins Loan program and the average award was $2,125.
Federal Parent PLUS Loans
If your parents are planning on taking out a loan to help pay for your college education, they can apply for a Federal Parent PLUS Loan, which currently has a fixed interest rate of 7.9%. You must be enrolled at least half-time in school and your parents will have to go through a credit check. Borrowers are given a 10-year period to repay their loan.

If you're getting some type of financial assistance for school, particularly a scholarship, you might have an Englishwoman from the 1600s to thank for it.
As early as 1643, the first financial aid scholarships were awarded at Harvard University thanks to a private donation by Lady Anne Radcliffe Mowlson. She had inherited money following the death of her husband and used 100 pounds of it (to give you an idea, that amount at the time was enough to pay a construction worker's wages for about four years) for the Harvard scholarship to help 'some poor scholar,' according to Harvard.
In 1840, Harvard was home to another first in the world of financial aid when it formed a loan program specifically for students.
After those milestones, helping students pay for college certainly wasn't forgotten about. Throughout the early and mid-1900s, many programs focused on helping students pay for an education were formed.
By 1953, a formula had been put together to start giving students aid based on financial need.
Three centuries after Mowlson's first scholarship donation, Congress passed the Higher Education Act of 1965, which helped shape modern financial aid. It provided loans, scholarships and work opportunities to those who couldn't otherwise afford the cost of higher education. Federal Perkins Loans, Federal Work-Study Programs, Grants to Students and the Federal Direct Loan Program are all results of this act.
Financial Aid
Even to this day, the area of financial aid is constantly looked at, and new legislation and programs are created to keep addressing this issue.
Nowadays, financial aid has become a very important factor when it comes to students being able to afford to attend college. The example that Mowlson once set for financially helping students is now followed by countless others who offer scholarships to college students.
Financial Aid Checklist
Research all of your options when it comes to financial aid, including:

federal loans
grants
work-study programs
scholarships

Talk to your high school counselor to see if he or she can help you find scholarships you might qualify for.
If you are a young man over the age of 18, be sure to register for Selective Service. If you don't register you could become ineligible to receive federal financial aid.
Complete the Free Application for Federal Student Aid (FAFSA) each spring for the coming academic year. Most kinds of financial aid require submission of this form. You can fill out the FAFSA online if it's more convenient for you.
Keep a calendar of the deadlines for application submission. Priority is given to applications that are submitted between January 1st and March 2nd. Due to limited financial aid resources, certain funds may be dispersed on a first-come, first-served basis.
Carefully review the Student Aid Report (SAR) that you'll receive a few weeks after submitting the FAFSA. Correct any errors on FAFSA's website immediately.
Be prepared to promptly submit additional information that will support your financial aid request, such as tax documents.
Review the financial aid award notification that will be sent out by your school's financial aid office once you have been deemed eligible for assistance. It will tell you what awards you'll receive, their amount and any conditions associated with them.
Negotiate, accept or decline your financial assistance offer. Funds are granted only after you accept them. Remember that maintaining good grades may be a condition of some educational awards.
Maintain copies of all of the applications and information you submit so that you can refer back to it if need be.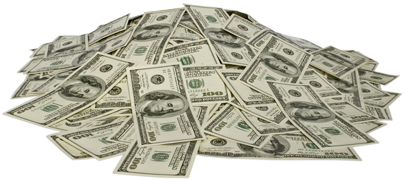 Financial Aid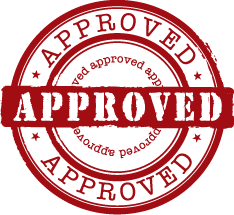 The amount and type of federal financial aid you qualify for will depend on the information you entered on your FAFSA, so you want to be sure to answer everything completely and accurately. Applicants of all ages are eligible for federal student aid programs. If you're considered someone's dependent, as many students entering college are, family finances and your parents' ability to contribute to your educational costs are taken into account when determining the kinds of loans or scholarships you are eligible for. Also factored in are assets such as stocks, bonds, real estate, savings and retirement accounts.
Having a valid social security number, a high school diploma or G.E.D. certificate and maintaining satisfactory grades can be some of the requirements students must meet to be eligible for different kinds of student aid. Depending on the form of financial assistance you're applying for, the number of credits you're taking and your academic standing can also be factors.
With so many different forms of financial aid available, you should never just assume that there's nothing you'll qualify for. Even if rejected for a particular grant, you might still be awarded a scholarship from a different source. The key is to research all the opportunities out there and find any and all sources of assistance that you might qualify for. It's also important to know all of your deadlines and make sure you're submitting everything on time. Missing a deadline could result in losing out on some financial aid.
Financial Aid
10 Schools with the Best Financial Aid Packages
Despite the downturn, according to a report by U.S. News and World Report, 63 educational institutions around the nation contend that they are still meeting 100% of the financial needs of all of their students. When you're deciding which schools to apply to, you might want to think about how likely they'll be to help cover all of your education expenses. Finding a school that meets most if not all of their students' financial needs could mean not having to worry that not all the bills will get paid. Following are a few of the statistical findings from U.S. News and World Report: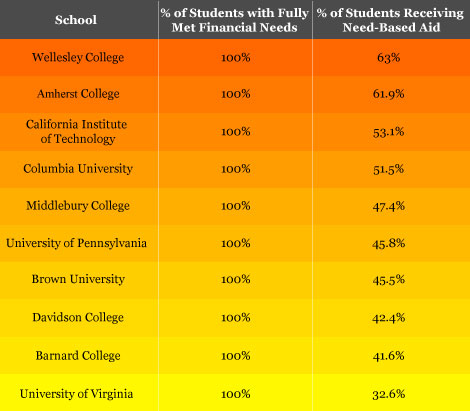 Financial Aid
How-To…
…Understand the FAFSA
The process of filling out the FAFSA can seem complicated, but with your parents' assistance and with relevant documentation close at hand, it can be done in a timely manner. You should only fill out the FAFSA at www.fafsa.ed.gov, the official U.S. Department of Education website.
Beware of websites attempting to charge you for this free service.
Visit the FAFSA website and obtain a personal identification number (PIN). You can file the FAFSA without a PIN, but this number can expedite the filing process by allowing you to quickly sign your application electronically. You can create your own PIN or allow the system to generate one for you.
Also, take note of the deadlines for completing and filing your FAFSA application, and of school deadlines for financial aid application submission. You can find step-by-step instructions on completing the FAFSA online.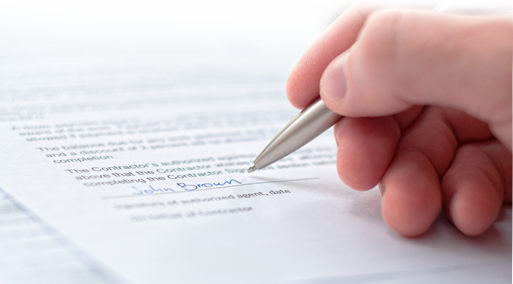 Next, compile personal and financial records such as tax returns, social security cards, bank statements and W-2 forms. Begin the process of filling in personal and parent information fields, as well as the income tax section. If you've never filed a tax return, this section must be completed using your parents' tax information. Then, in order of preference, enter the federal school codes of the schools you'd like to attend, and date, sign and submit your FAFSA.
…Understand the SAR
Remember that your Student Aid Report (SAR) condenses the information that you disclosed in your FAFSA, and it will include the EFC, the amount your family is expected to pay towards your college
expenses. The Department of Education will forward copies of the SAR to you and to the financial aid offices at your schools of interest. Those offices use the SAR to customize a financial aid package for you, according to the types and amounts of aid you qualify for.
…Use Your School's Financial Aid Office
The financial aid office at your school isn't just a place for turning in paperwork. It can be a valuable resource for students looking for ways to fund their education. The staff members could be able to help you apply for aid or determine what your eligibility might be, let you know about available resources or even help you find some type of employment, whether you're in the work-study program or not.
Financial Aid

According to a CNN Money report, many of the same major public and private universities have vowed to fully fund education for low-income students using no-loan or reduced-loan policies, some of which also eliminate the need for parental contributions. This is accomplished through the use of grants and work-study programs. If your family falls into a low-income category and you don't have to have to go into debt to pay for school, you should see if there are any promising schools that have similar policies. Some of the universities that fully fund education for low-income students are listed below: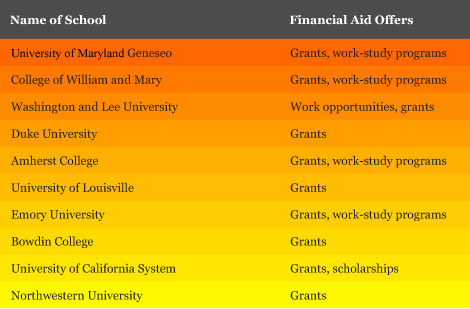 Q & A
Should I wait until I've been accepted to a school before applying for financial assistance?
Monies for financial aid aren't dispersed until after admission and enrollment have already taken place. However, the ideal time to begin the application process for financial aid is as soon as possible after January 1st of the year you plan to enroll in school. This is typically after you've applied to schools but before you've received a response from them.
Where can I go for financial aid information for the state I live in?
You'll find a wealth of financial aid information on the official website of the U.S. Department of Education. It also operates studentaid.ed.gov (formerly students.gov), which gives students and families information about planning and paying for a college education.
Where can I find general information about financial aid?
Visit students.gov to find information on financial aid for individual states as well as topics such as online study help, career development and campus life.
Is it necessary to apply for financial aid every year?
Yes. Students who require financial aid must apply each academic year. This is because your family's finances can change, or there could be more or fewer family members attending college.
How many students receive financial aid?
Various forms of financial aid went to 66% of all undergraduate students during the 2007-2008 school year. About 47% of undergraduates received an average of $6,600 in federal student aid during the same school year.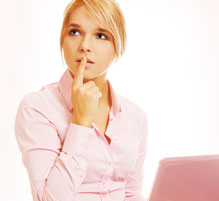 Financial Aid
How can I tell if a scholarship is legitimate?
Scholarship fraud costs families millions of dollars annually. According to the Federal Trade Commission (FTC), you can minimize your risk by watching for these signs of potential fraud:
Being told that information is unavailable anywhere else.
Claims that a scholarship is guaranteed or 'your money back.
Claims that they need your bank account number or credit card information to hold or process the scholarship.
Becoming a finalist in a contest or sweepstakes that you haven't entered.
Being informed that a national foundation has chosen you as the recipient of a scholarship you never applied for.
Will I be able to sign a student loan if I'm under 18?
You can sign a federal student loan and promissory note without a co-signer if you're under 18. However, in the case of private loans, you will need a co-signer.
Should I apply for financial aid if I think my family earns too much to qualify?
Yes, you should. This is a mistake made by many families, and it prevents students from availing themselves of valuable resources.
Some forms of financial aid are awarded to families without regard to financial need, such as merit-based awards. The financial aid application process is free, so you've got nothing to lose.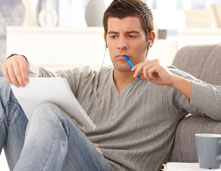 What if my parents are divorced?
The fact is that divorce can and does impact the financial aid process. For example, your FAFSA Application will have to include the financial information of the custodial parent, including child support or alimony they receive; the finances of the non-custodial parent are not a factor in deciding the aid you'll receive.
What if I'm financially independent?
If you're a student who is not dependent on your parents, you won't have to include their financial information on your FAFSA. This means that the aid you are eligible for will be determined based on your own financial information. If you are married, your spouse's financial information will have to be included in your application.
What happens if I don't meet all of my financial aid's academic requirements?
It's very important for students to be aware of the GPA they need to maintain to stay eligible for their financial aid and work hard not to fall below it. Typically, students who don't meet the GPA requirements will first receive notification of the problem and will be put on probation. Failing to meet academic requirements after that could result in the student losing their financial aid eligibility and payments being stopped. However, you might be able to regain your eligibility after a period of time and getting back on track with the requirements.
What assistance is available for servicemen and women?
Scholarships for military families include the Iran and Afghanistan Service Grant and the Air Force ROTC program. Other scholarship opportunities are available through the United States Army and the Disabled American Veterans.
Must I begin repaying loans while I'm still attending school?
There are some loans that do not have to be paid until you leave school. You're given a grace period of six months if you received a Federal Direct Stafford Loan or a Federal Family Education Loan. A grace period of nine months applies if you were granted a Federal Perkins Loan. Deferment arrangements can be made should you leave school and later return.
However, there are some loans, traditional personal loans, for instance, which you might have to start repaying right away or after a specific grace period. Make sure that you read the fine print on your loan paperwork so that repayment schedules don't catch you by surprise.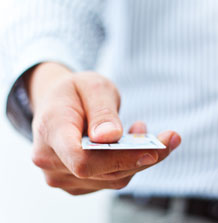 What happens if I don't repay my student loans?
Students must sign promissory notes promising to repay their loans. In the event a student loan goes into default, collection action is taken. If this happens, credit and buying power could be jeopardized. Having an outstanding student loan can also make one ineligible for future financial aid. It is even possible for wages and tax returns to be garnished. It is far better to make payment arrangements than to allow a loan to go into default.
Financial Aid
Mythbusting Financial Aid
Only Rich Kids Go to Harvard
Some Ivy League schools, including Harvard, Yale and the University of Pennsylvania, have begun increasing financial assistance to middle- and upper-middle income families. In fact, Harvard's financial aid page states that financial aid loans have been replaced by need-based scholarships. During the past ten years alone, Harvard's scholarships funding has expanded by 163%.
The result of these sweeping changes is that the cost of an education at Harvard and other Ivy League schools is now comparable to in-state tuition at some of the country's foremost universities. You must still consider the fact that top tier private schools are highly selective and have strict academic entrance requirements.
To combat this, some schools such as the elite Smith College in Northampton, Massachusetts are placing less emphasis on ACT and other scores. Outstanding academic performance is still of the utmost importance but, financially speaking, an Ivy League education is becoming much more attainable.
All Loans Are the Same, Right?
Actually, they aren't. One thing to remember is to always seek federal loans first. Interest rates on federal loans such as the Subsidized and Unsubsidized Stafford Loans are almost always lower than those from private education lenders such as banks. Repayment terms on federal loans are also more flexible.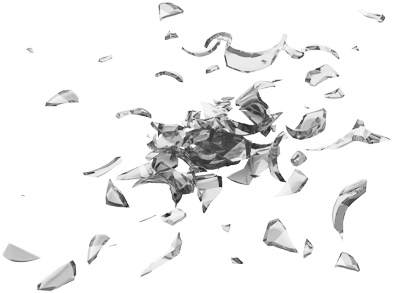 Then there are PLUS Loans that, while offering low interest, also require a credit check, whereas no credit check is required to qualify for Stafford Loans. Private consolidation loans enable borrowers to combine several federal student loans into a single monthly payment. You should only consider consolidated loans after exercising all federal student loan choices.
Only Students With High GPAs Get Scholarships
The good news is that, even if you don't have the best GPA in the world, you could still qualify for some type of scholarship, since academic standards vary for each one.
The even better news is that there are plenty of scholarships that look at things like your community involvement, personal achievements or even your talents in deciding to give you a scholarship. So if you're an excellent artist or an amazing rugby player but don't have a high GPA, you could still be able to get scholarships for college. You just have to do some digging to find the scholarships for which you meet the criteria. Of course, this is in addition to the many forms of financial aid awarded based on your financial need.
Financial Aid
Summary of Financial Aid Resources
When seeking financial aid information, you'll find that the most reliable sources are state and federal governments and non-profit organizations. These places all give information for free. Beware of any company claiming that it's necessary to pay to receive educational assistance. Following are some reputable sites for financial aid information:
First and foremost, the U.S. Department of Education is a great information source. It offers access to financial aid resources in English and Spanish on its site.
Information on federal aid can also be found at Student Aid on the Web. Information is available in both English and Spanish.
Education Resource Organization Directory (EROD) is the U.S. Department of Education's source for links to state education agencies.
The Free Application for Federal Student Aid (FAFSA) is found on this website.
Federal and state educational aid resources can be found at studentaid.ed.gov (formerly students.gov).
If you're seeking a free website with information pertaining to scholarships, loans and college cost calculators, you'll find it at FinAid. FastWeb is a free service that is in partnership with Fin Aid. It helps match students with scholarship sources.
Apply for a PIN for Federal Student Aid so that you can complete and maintain the FAFSA file online.

Adjusted Gross Income (AGI): This number is found on a tax return. The AGI is the amount of money earned after adjustments have been made for personal exemptions and itemized deductions.
Cost of Attendance (COA): This is a calculation of the total amount of money it will cost to attend a given educational institution. In additional to including your tuition costs, your COA includes direct expenses, like paying for textbooks and other fees, and indirect costs, like living and transportation expenses. If you don't want to try to estimate your COA on your own, you might be able to get it from your school's financial aid office.
Default: If you're supposed to be repaying your federal student loans but have not made a payment in 270-360 days (9-12 months) and haven't made special arrangements, like applying for forbearance or deferment, you'll fall into default.
Deferment: Similar to forbearance, deferment is a way to delay paying back loans, although with this option interest does not accumulate while the loans are not being repaid.
Expected Family Contribution (EFC): This number is the dollar amount your family will be expected to contribute for your education, therefore determining your eligibility for financial aid. Universities also use this number to determine the amount of financial aid you need.
FAFSA PIN: Much like your ATM code, the FAFSA PIN is a 4-digit number that helps you access important personal information, like your federal financial aid records. You'll also use it each year to apply for your federal aid; it will serve as your electronic signature during the process.
Financial Aid Calculator: Financial aid and loan calculators are tools you can use to help determine things like the amount of financial aid necessary for you to be able to attend college, what funds you might need to personally save to contribute or what your monthly loan payments will be.
Financial Aid
Forbearance: This allows loan holders to delay paying back their loans for a certain period of time, possibly several months. During the postponement, interest is still accrued.
Free Application for Federal Student Aid (FAFSA): This is an application form that must be submitted by students who are seeking federal financial aid. In consists of questions about your income, financial situation, dependents, your parents' financial information and received benefits like food stamps, among other things, and it's used to determine your eligibility for assistance.
Grace Period: This refers to the amount of time you have between leaving school (or no longer meeting the half-time enrollment requirement) and when you must begin repayment.
Loan Consolidation: Students with more than one student loan may want to pursue loan consolidation after they graduate. This is where multiple loans are combined into a single new loan, which might help lower monthly payments.
Promissory Note: A promissory note is the legal document that outlines the terms of your loan agreement. By signing it, you promise to repay the amount borrowed plus applicable interest.
Student Aid Report (SAR): This electronic or paper form is a summary of the information that was disclosed on your FAFSA application, including the amount of financial assistance you qualify for and your family's expected contribution to your education (EFC). You usually receive it by email within five days of your FAFSA being processed.
Subsidized Loans: With subsidized loans, interest is not charged during grace periods or while it is being deferred.
Unsubsidized Loans: The big difference between unsubsidized and subsidized loans is how interest is handled. If you have an unsubsidized loan, you will accrue interest on it during the entire time that you have it, including while you're in school.