Hospitality Management - A LearningPath.org Guide
The Ins and Outs of
Hospitality Management
Industry Job Options
Tips to Improve Your
Hiring Potential
Editor's Note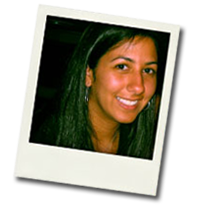 Dear Reader,
Do you have a knack for organizing a party, whether it's dinner for eight or cocktails for 80? Do you thrive on social interaction and enjoy making people feel special and comfortable? Have you considered a career in hospitality management?
At LearningPath.org, we understand that deciding on a program or major can be pretty nerve-wracking, especially since it has long-term implications for your career. Fortunately, you don't have to make decisions without guidance - we've created the INSIDE Hospitality Management guide so you have some helpful tools to begin the process. In it, you will find plenty of great tips and unbiased information aimed at helping you decide whether hospitality management is a good career path for you. We also invite you to visit our site's extensive compilation of hospitality management associated articles.
We hope these pages help you find your path.
Happy reading,



Citlali Tolia
Lead Editor, INSIDE Guide

Quick Facts
Even though hospitality is considered a slow growth industry, job prospects overall should be good as people leave the industry.
Candidates with strong customer service skills and solid work experience along with some formal training will have the most opportunities.
Most hospitality managers consider difficult customers and employee motivation to be the hardest parts of the job.
Meeting and convention planners don't need industry-specific skills.
Hospitality Management
Are You a Candidate for Hospitality Management?
In addition to specific levels of education, hospitality managers have certain personality traits that make them particularly suited to this industry.
Hospitality Management Career Levels
Assistant/Department Manager
Like many in the hospitality management field, your managerial responsibilities will probably start off fairly light. Most workers enter the hospitality industry as department or assistant managers after 2-4 years of college, though occasionally no formal education is required at all. Specifics depend on the industry in which you make your home. For example, if restaurants are your calling you could enter the field as an assistant manager or executive chef, where you'd ensure your kitchen's efficient and clean operation as well as help plan the menu. In the gaming sector, you could be in charge of certain games or rooms, for instance by managing all poker or table games at your establishment. In hotels, you might hire in at the position of assistant manager and rotate amongst the hotel's departments, learning how to perform all
the separate tasks necessary to running a lodging establishment, including housekeeping, human resources and food service.
General Manager
Through experience and proficiency at your job as assistant manager, you can be promoted to the position of general manager. Again, what this mean depends upon the specific field in which you work, but typically general managers take final responsibility for all (or at least most) of the operations of any given establishment, putting the final stamp of approval on issues like finance management, marketing and guest services. Depending on the size of your operation, a squad of assistant managers may report to you, or you may run the whole show. Additionally, in smaller
Hospitality Management
businesses general managers may even perform duties more typically associated with clerks. For instance, if you're a general manager for a small hotel, you might have to man the front desk in addition to your other duties.
Property Manager
In some cases, general managers of restaurants or hotels automatically become property managers. Other times, the position represents a promotion. As a property manager, your responsibilities will be similar to those of a general manager. However, you will also be in charge of a piece of real estate.
This responsibility requires a whole other set of duties involving taxes, upkeep and maintenance. You may sometimes perform this additional work yourself or contract out to external agencies. Career aspirations to property manager are especially relevant when it comes to 'full-service' hotels, which often include resorts, casinos or convention centers. Thus, as a property manager your job combines a little bit of all aspects of the hospitality industry. Mostly these positions require proficiency at managerial jobs with less responsibility, although hotels particularly prefer to hire candidates with a bachelor's degree in a relevant field.

| Position | Mean Annual Salary |
| --- | --- |
| Food Service Managers | $51,400 |
| Gaming Managers and Supervisors | $51,944 |
| Meeting and Convention Planners | $48,060 |
| Lodging Managers | $53,500 |
Career Paths & Specializations
The hospitality industry ranges from campgrounds and chain motels to bed and breakfasts and luxury hotels. It also includes large and small eateries, from boutique hotel dining rooms to chain restaurants and everything in between. If you are interested in serving the public, are good with people and like to create a welcoming and memorable experience for your guests, hospitality management may be for you.
Hotel & Lodging Manager
Hotels and motels make up the majority of lodging options. Depending on the size of the establishment, one or many managers may be needed. However, all positions are geared to the same goal: ensuring that guests have a comfortable and pleasurable stay, while maintaining profitability. You may have to work long hours, weekends and holidays as a hospitality manager. Most positions require a minimum of some sort of
hospitality program, while large, higher end establishments may require a degree in business or hospitality management. Work experience is highly valued.
Food Service
General Manager
Food service general managers handle the daily operations of restaurants and other food and beverage establishments. As a manager, you act as the main liaison between the kitchen and the front of house experience, and are responsible for staffing, administrative duties, working with suppliers and creating a great customer experience. Work experience combined with a 2- or 4-year degree is increasingly preferred for many management positions in the field. You can expect to work long hours, weekends and holidays. Most managers receive free meals, and if you work in a large establishment you may receive bonus incentives as well.
Hospitality Management
Career Paths & Specializations
Meeting and
Convention Manager
If you are detail-oriented, good with deadlines and a meticulous planner, this may be a good career path to consider. Convention planners help identify the message or theme of a meeting, gather proposals that cover all of the needs of the meeting, choose a venue and negotiate contracts. They also assess the success of an event and do follow-up. A bachelor's degree is highly desirable, with a focus on marketing, public relations, business, hospitality or meeting management being most helpful.
Executive Chef
If you are passionate about food, a great cook and willing to develop administrative and leadership skills, you may be interested in becoming an executive chef. This position may require specific training ranging from an
apprenticeship to a 4-year degree, depending on the work environment you aspire to. Most chefs go through some kind of culinary program, but the most valuable experience is on-the-job. Chefs work long hours, so physical strength and endurance are important.

Hospitality management is one of the few fields in which hands-on experience counts as much as education. Exceptional managers are an invaluable, sought-after asset in every environment, and can drive business even in tough times. Here are a few ways you can boost your hiring potential.
Get a Degree – A degree in culinary arts, hotel and restaurant management, hospitality leadership, international hospitality or tourism management is increasingly valuable in the eyes of prospective employers. Degree programs generally offer technical and organizational training that spans management, event planning, guest and vendor relations, operations, menu development and more.
Find a Mentor – Study under a master chef, a successful restaurateur or high-end boutique hotelier, and learn everything you can. Hands-on exposure to the inner workings of a successful
enterprise is one of the best learning experiences for newcomers in the hospitality industry, and talent is often hired from a pool of interns.
Be a Customer – Make a point of eating out and staying in hotels so you can get an up close idea of what real world service looks like. Being a customer is a fast way to learn what works and what doesn't; you can model your personal service style on how you'd like to be treated.
Learn a Language - Or Two – Whether you're running a kitchen or the front desk of a hotel, languages are invaluable. Hotels in particular seek managers who speak multiple languages.
Hone Complementary Skills – Communication, motivational speaking, design, marketing, public relations and a well-rounded education in humanities are all useful assets.
Hospitality Management

Do I need a degree to work in the hospitality management field?
Not always. Many jobs, especially in the food service and gaming sectors of the hospitality field, promote some managers from within. You might take an entry-level position as a short-order cook or slot machine attendant, for instance, and work your way up. However, if you wish to go straight to a management or supervisorial position, some kind of college education is helpful.
What's the job outlook like for the industry?
It depends on the area in which you want to work. The gambling industry is predicted to show significant growth over the next decade. Similarly, convention-planning is expected to produce numerous opportunities. Employment in hotels and restaurants is forecast to have a slower than average growth over the next ten years, but that's not to say that no jobs are available. For instance, managers will be required as fast-service restaurants continue the trend of opening in retail and other non-traditional settings.
Are there any other degrees helpful for working in this field besides hospitality management?
Yes! You could instead choose to earn a degree in a related field, like business administration. Courses here cover topics like finance, marketing and management, all subjects you'd find in a hospitality management curriculum. They lack the specific focus on restaurants and hotels, but since most workers in those fields receive on-the-job training, you can learn that later.

Certificate in Hospitality Management
You can find certificate programs in hospitality management at many community colleges and universities. They tend to require around 20 hours of coursework and aim to familiarize you with the skills helpful for obtaining entry-level positions in the field. Topics covered include business and accounting, food preparation and sanitation, and lodging management. Though these programs are focused solely on hospitality industry topics, you may be allowed to transfer some credits to a broader associate's degree.
Associate's Degree in Hospitality Management
These programs are similar in content to certificate studies, but they include a wider base of courses in language arts, mathematics and science to give students a more fully-formed education and flexibility in career options. They typically take two years to complete.
Through an associate's degree in hospitality management, students begin to learn the specifics of food and hotel work as well as more general management skills, including human resources and marketing.
Bachelor's Degree in Hospitality Management
Students looking to partake in a traditional 4-year undergraduate curriculum but who still have an interest in the hospitality industry might be well-served by earning a bachelor's degree in hospitality management. Bachelor's degree programs offer many of the same general and specific courses found in an associate's degree curriculum, and they often allow students to focus on specialized fields in the industry, such as hotel or casino management or even working with wine. Many bachelor's degree programs facilitate hands-on work experience with nearby hotels, restaurants and gaming
Hospitality Management
establishments in order to develop business and management skills.
Master's Degree in Hospitality Management
Professionals working in the hospitality industry who want to further their education might consider a master's degree in hospitality management. These programs are often designed to fit around one's work schedule and typically require applicants to have some type of work experience in business or hospitality management. Courses here look at the underlying theories behind the practices of the hospitality industry and include a more intensive study of managerial matters such as entrepreneurship, employee productivity and property development.
Ph.D. in Hospitality Management
Though rare, doctoral programs in hospitality management do exist at some universities. They're designed for professionals who wish to research the principles and practices of the hospitality industry in the government or in private sectors, or for those who wish to teach hospitality at the university level. They require a significant amount of research beyond a master's degree as well as the completion of a thesis or dissertation in the field. Students should expect to spend approximately four years in these programs.
Professional Organizations
There are dozens of professional hospitality organizations, so it may be best to choose a niche before you start looking at which one you'd like to join. There are associations for minorities, women, food writers, event planners, restaurant owners, hoteliers, food service managers and many more. Here are a few of the larger ones:
The American Hotel and Lodging Association (AHLA) is one of the oldest lodging organizations in the U.S. and represents thousands of property owners.
The International Hotel and Restaurant Association (IHRA) provides advocacy and networking to the hospitality industry on a global level and represents more than 700,000 establishments.
Slow Food is an international organization with a commitment to great food, cultural preservation and responsible agriculture. With more than 100,000 members and 2,000 sustainable food communities, Slow Food is making its mark around the world.
Hospitality Management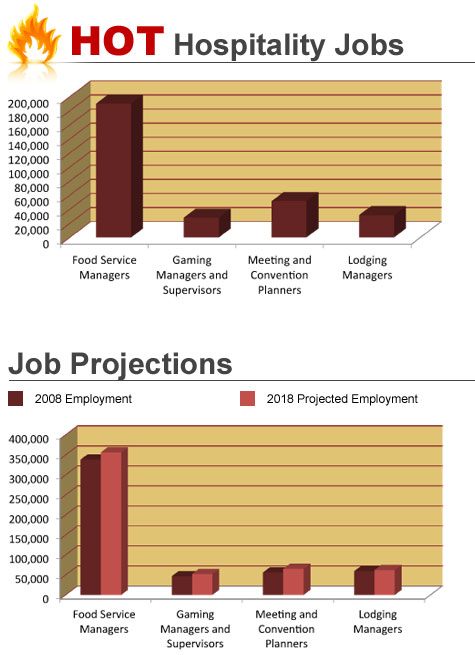 The NRAEF offers several scholarships aimed at both first-time freshmen and current or returning undergraduate students completing degrees in the restaurant and foodservice fields. Awards range from $2500 to upwards of $5000. Eligibility criteria may vary; some scholarships are only available to students attending a select list of schools. Among the scholarships are the Al Schuman awards for students with entrepreneurial inclinations.
These need-based scholarships are awarded to students with declared majors in hospitality, food service or an industry-related field. Eligible schools are determined by area chapters, which include 19 in the United States and three in Canada.
AH&LEF offers a number of undergraduate, graduate and professional development scholarships to students and professionals engaged in the hospitality industry. The foundation awards hundreds of thousands of dollars each year.
Tourism Cares provides over $100,000 per year in academic, professional development and internship scholarships to students and professionals in the travel and tourism or hospitality industry. Candidates may study in the U.S. or Canada; eligibility criteria vary. Awards range from $350-$5,000.
Hospitality Management