Medical Diagnostics and Technology - A LearningPath.org Guide
Medical
Technology
Job Options
What Degree
Do I Need?
Editor's Note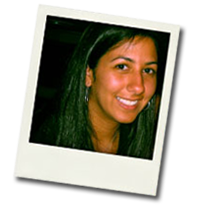 Dear Reader,
Did you grow up dreaming of becoming a doctor or staying up at night to watch ER reruns? Do you have a knack for math and science and feel passionate about helping people? As the United States' population grows, opportunities in the field of medical diagnostics and technology are expected to keep pace, so whether you're interested in sonography or new discoveries in nuclear medicine, there are many expanding career paths available to you.
At LearningPath.org, we know that making educational decisions can be nerve-racking. That's why we've created the INSIDE Medical Diagnostics and Technology e-guide. This collection of well-researched, impartial articles is designed to help you decide if the medical diagnostics field is right for you. Visit our extensive bank of articles for in-depth information on careers in medical diagnostics and technology.
We hope these pages help you find your path.
Happy reading,



Citlali Tolia
Lead Editor, INSIDE Guides

Quick Facts
Healthcare employment is one of the fastest growing sectors of labor in the country.
Physical strength and stamina are important attributes in any healthcare treatment profession.
Most diagnostic and treatment jobs are in hospitals.
The aging baby boomer population has contributed to a significant increase in the need for qualified diagnosticians.
Even though certification is voluntary in most diagnostic professions, it is generally desirable and often a professional standard.
Medical Diagnostics and Technology
Medical Diagnostics and Technology Could Be for You if…
There are certain personality traits that can mean that you are particularly well-suited to a career in medical diagnostics and technology. If you check 12+, a career in this field may be a great option for you!

Medical Technician
As a medical technician , you'll generally perform preparatory and support work for the technologists you work alongside. That may mean getting machines ready for use, prepping patients for procedures and the like. You might also perform standard procedures like taking patient EKGs or X-rays. Depending on the field in which you work, licensing or certification may be required, especially if you work with radiation. Even if certification isn't legally required, some employers may prefer candidates who've obtained it. Diagnostic technicians often have an associate's degree in their field.
Medical Technologist
Experienced technicians can become medical technologists. Furthering your education can also lead to this advancement; if you have an associate's degree in radiography, you could earn a bachelor's degree in your chosen field or obtain a certification from a relevant professional organization. Technologists generally perform more complicated operations that employ diagnostic machinery, such as invasive cardiac procedures or fluoroscopies. Licensing and certification requirements vary depending on your field.
Chief Technologist/ Supervisor
With enough experience, you can be promoted from the position of technologist to department supervisor or chief technologist. Augmenting your education and obtaining professional certification helps here as well. As a supervisor, you'll take responsibility for the other technologists and technicians who work with you. In addition to technological skills, this job requires managerial duties. Supervisors also generally receive higher pay.
Department Administrator/ Director
If the management aspects of being a chief or supervisor appeal to you, the position of department administrator or director may lie in your future. This job emphasizes the business and managerial aspects of the medical industry over the work of operating diagnostic technology. Some employers look for administrators who've earned a master's degree in health administration, so if management's your goal you might consider a few extra years of college to gain an advantage in the job hunt.
Medical Diagnostics and Technology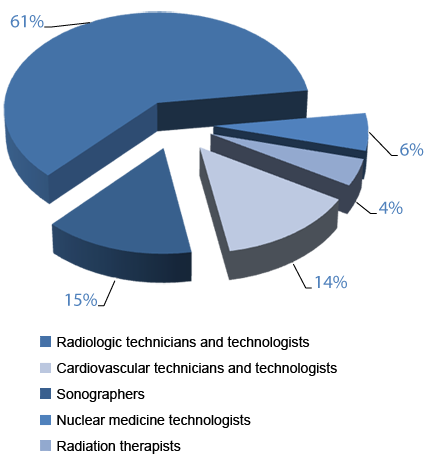 Are you interested in the healthcare industry? This vast field offers a number of opportunities in support services that help diagnose and even treat illnesses.
Medical Sonographer
Sonography — also referred to as ultrasonography — uses sound waves to create images for assessment and diagnostic purposes. As an ultrasound technician you would analyze images to provide preliminary findings to a physician. You generally need to complete a 2-year training program in sonography and, while no states require licensure, certification as a Registered Diagnostic Medical Sonographer is highly recommended.
Nuclear Medicine Technologist
As a nuclear medicine technologist, you will educate patients, prepare and administer the radiopharmaceuticals and operate special cameras that can map the drugs and create diagnostic imagery. It's advisable to obtain at least an associate's degree, unless you're already a working healthcare professional with a degree. Certification is a voluntary but recommended step and many states require licensing, so you should check local regulations.
Nuclear medicine is a growing and highly competitive field; training in multiple diagnostic modalities is an asset.
Radiologic Technologist
Most of us are familiar with the technology of X-rays and MRIs, which use radiation and radio waves to create diagnostic images. As a radiologic technologist or radiographer, you'll perform imaging tasks like X-rays, MRIs, and mammograms. Most training programs for radiologic technicians lead to a certificate of completion or an associate's degree, with the latter being most common. Licensing requirements vary from state to state.
Clinical Laboratory Technician and Technologist
Lab technicians are entry-level workers and perform less complicated diagnostic tests than technologists. As a technician, you would generally prepare specimens and work under a lab manager or technologist. Lab technologists conduct complex tests related to blood and body fluids (including immunologic, microscopic and biological analysis).
Medical Diagnostics and Technology
Other duties could include evaluating test results and developing and monitoring procedural protocols.
To become a technician, you must complete either a vocational certificate or associate's degree program. Technologists need a bachelor's degree in medical technology or biological sciences. Certification in either field will generally improve your job prospects, and you may need to be licensed or registered in your state.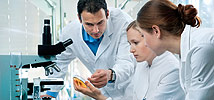 Cardiovascular Technician and Technologist
Cardiovascular technicians perform stress tests, electrocardiographs (EKGs) and other non-invasive tests. Cardiovascular technologists perform both non-invasive and invasive tests. These may include sonography or echocardiography, as well as more complicated tasks assisting physicians with catheterization, heart surgery or angioplasty.
Nurse's aides often receive on-the-job training to become cardiac technicians, while technologists must complete at least a 2-year training program.
Credentialing is voluntary but highly recommended, and continuing education is required to maintain certification.
Radiation Therapist
Radiation therapists work with medical oncology teams to treat cancerous tumors. This work requires precision, sensitivity and an ability to connect with patients who are often frightened and fragile. As a radiation therapist, you'll keep track of treatment dosing, protocols and patient reaction. Radiation therapists need to complete either a 2- or 4-year program. Most states require a license as well as certification, so check your local regulations.

Certificate Program in Diagnostic Medicine
Professionals in diagnostic medicine don't usually use certificate programs as an entry path to a career. These programs are designed to grow your knowledge base and add marketability to your resume. For instance, if you're a radiologic technician and you want to add radiation therapy to your skill set, a certificate program may be a good option. Certificate programs are available in the fields of sonography, radiography, cardiovascular technology, nuclear medicine and radiation therapy. They usually consist of year-long curricula that focuses on the body of knowledge needed for a specific job.
Associate's Degree in Diagnostic Medicine
Many professionals enter the field with an associate's degree in programs like diagnostic medical sonography, nuclear medicine technology, radiography, radiation therapy and cardiovascular technology. These programs will have an emphasis on sciences like biology, and its relationship to your subject of study, but will also include general education courses, such as English and math.
Bachelor's Degree in Diagnostic Medicine
It's becoming more and more common to earn a bachelor's degree before entering this field. If you'd like a more typical 4-year college experience but want to work in the field, you might consider earning a bachelor's degree. They're available in all key diagnostic specialties, such as radiation therapy, nuclear medicine technology, invasive cardiovascular.
Master's Degree in Health Administration
Many diagnostic medicine professionals advance by gaining decision-making and supervisorial responsibility, which can result in managerial positions. If this path interests you, consider furthering your education with a master's degree in health administration. These programs usually last around two years and focus on the business aspects of the healthcare industry. You'll learn how to provide patients with quality care while handling employees, finances and legal issues. These programs may also have internship programs, allowing you to practice your management skills in a real-world environment.
Medical Diagnostics and Technology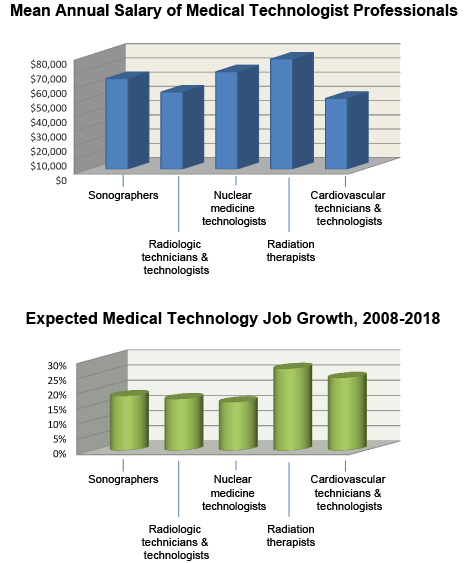 Medical diagnostics and treatment represent a very strong growth sector due in part to the aging baby boomer generation. Continuing education, specialization and complementary studies and training are key assets if you want to maximize your allure as a potential hire.
Get a bachelor's or master's degree – Many medical technician training programs can be completed in two years, but advanced training is always an asset and in some cases a necessity. If you have aspirations to move into teaching, management or administration at some point, continuing your education can only work in your favor.
Learn more than one specialization – Mastering more than one diagnostic technique is a tremendous asset in the workplace, and will generally increase a technician's earning power. Seasoned professionals with an understanding of how various diagnostics complement and interface with one another are very desirable.
Get Licensed or Certified – Licensing, registration and certification requirements vary from state to state, so check your local regulations. Licensed practitioners will almost always be able to command higher salaries, and will also have improved job mobility if relocation is desired.
Hone Complimentary Skills – Well-developed communication skills are generally valuable, as are qualities like strong problem-solving skills and empathy. Because patients are often nervous when undergoing medical testing, some knowledge of psychology, relaxation methods, breathing exercises or meditation may be very helpful.
Medical Diagnostics and Technology

There are many education options in this field. Is any one path better for me?
Many people who work in medical diagnostics have an associate's degree, but bachelor's degrees are becoming more popular. Most working professionals don't start with a certificate program — many employers prefer technicians or technologists to have at least two years of education before finding employment. Each specialization has its own degree programs, so you might want to focus on the area that appeals to you. However, it's not uncommon for established medical diagnostic professionals to go back to school to expand their skill set.
Lots of medical professions require licensing. Does that include mine?
Not all workers in this field need to be licensed. Licensing is most common for those who work with radiation, like radiological or nuclear medicine technologists. Even if licensing isn't required, employers may prefer you to have earned some kind of credentials from a professional organization in your field. For radiation-related careers, look to the American Registry of Radiologic Technologists or the Nuclear Medicine Technology Certification Board for credential information. Cardiovascular technicians can be certified by Cardiovascular Credentialing International and sonographers have the American Registry for Diagnostic Medical Sonography.
What specializations offer the best employment opportunities?
Although there's some variance in the professions you might take up, all jobs within the medical diagnostic and treatment field are projected to offer significant opportunities for employment over the next decade. According to the U.S. Bureau of Labor Statistics, radiation therapy leads with a projected job growth of 27% from 2008-2018, while cardiovascular technicians and technologists come close with a 24% job increase. Nuclear medicine technologists, radiologic technicians and technologists and sonographers are expecting their workforces to grow by 16%, 17% and 18%, respectively.

The Society for Vascular Ultrasound's $2,500 scholarship is awarded to students entering their final year in an accredited, 2- or 4-year vascular ultrasound technology program. Applicants must be full-time students with a minimum GPA of 3.5.
The Health Professions Education Foundation's $4,000 California State Government-sponsored scholarship is available to healthcare students enrolled in allied health programs. Recipients commit to either one year of service or 100 hours of volunteer work patient care in a medically underserved area (MUA) of California.
The Association of Schools of Allied Health Professions awards this $1,000 scholarship to outstanding allied health students. Candidates must be enrolled in one of ASAHP's 122 member institutions.
The program awards 1,000 "good-through-graduation" scholarships each year to minority students studying fields where they are typically underrepresented. Applicants must have a GPA of 3.3, be demonstrated leaders in their communities and meet financial eligibility criteria for the Federal Pell Grant.
Medical Diagnostics and Technology