Nursing - A LearningPath.org Guide
Should You Become
a Nurse?
Scholarships Just for Nursing Students
Your Salary by Career Level
Editor's Note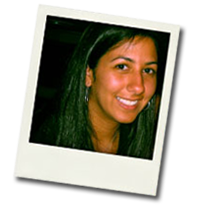 Dear Reader,
Whether your interest in nursing comes from a long-standing interest in medicine, or there was a difficult moment made bearable by a nurse's kind words and dedicated care, now might be the right time to pursue your dream. As the country's population ages and pressures on our healthcare system increase, nurses are expected to play a growing role in patient care, giving you more of a chance to make a tangible difference.
At LearningPath.org, we know that making educational decisions can be a nerve–racking experience. This is why we've created the INSIDE Nursing guide. In it, you will find a wealth of well–researched, unbiased information designed to help you decide whether nursing is the right career for you. We also encourage you to explore our site's extensive bank of nursing–related articles.
We hope these pages help you find your path.
Happy reading,



Citlali Tolia
Lead Editor, INSIDE Guides

Quick Facts
In 2008, there were over 2.5 million Registered Nurses in the United States.
Nursing degrees are available at all levels, from associate's degrees to master's degrees.
Nurse Practitioners, the highest level of nurse, earned an average income of $92,100 in 2008.
Nurses typically work in hospitals, doctor's offices, and nursing homes.
The need for nurses of all levels is expected to grow in the next ten years.
Nursing
Should You Become a Nurse?
Great nurses have certain traits that help them excel at their job. If you check 12+ of these characteristics, nursing can be a great option for you!
What Degree Should I Earn?
Certified Nursing Assistant
(CNA) Diploma
Certified Nursing Assistant diploma programs are available at most community colleges or medical facilities. CNA diploma programs typically last 6-12 weeks and cover topics like patient care, nutrition, anatomy, and physiology. These programs also include hands-on training to prepare you for typical CNA duties like bathing and feeding patients, and checking vital signs.
Associate Degree in Nursing (ADN)
The ADN is one of the pathways to becoming a Registered Nurse. ADN programs are available at many community colleges and some 4-year universities. ADN programs take up to two years to complete, and are often a stepping stone to the Bachelor of Science in Nursing (BSN) degree. After completing the ADN, you can sit for the NCLEX-RN examination and apply to become a Registered Nurse. (Licensing requirements vary by state.)
Hospital-Based Nursing Diploma
Though less common than it once was, the Nursing Diploma is another option for students who wish to become a Registered Nurse. The Nursing Diploma can take 2 to 3 years to complete and prepares you for a career working in a hospital or other medical facility. After completing the diploma program, you can sit for your RN licensing exam and apply to become a Registered Nurse.
Bachelor of Science in
Nursing (BSN)
The BSN is a great option if you're interested in pursuing an advanced degree in nursing, or want the option to work in a variety of health-care settings. The BSN is offered at a number of universities and generally takes 4 years to complete. Nurses who hold a BSN are eligible for supervisory roles and other facilities and have the opportunity for increased career advancement.
Nursing
Master of Science in Nursing (MSN)
If you're interested in becoming a Nurse Practitioner, Certified Nurse Anesthetist, Clinical Nurse Specialist or Certified Nurse Midwife, you will need to earn your MSN. MSN programs typically take 2 years to complete and are only available to students who have completed a BSN or equivalent degree. Many universities have programs specifically designed for Registered Nurses who want to earn their MSN.
PhD in Nursing
The PhD in Nursing is for students interested in conducting original clinical research designed to improve the field of nursing and patient care. Research may focus on an area like public/community health, health policy, or medical ethics. Generally, Nursing PhD students have been RNs for a number of years and already hold a BSN degree or higher.
Nursing in the 21st Century: How the Role of Nursing Is Evolving
Most nurses work in hospitals, but that's not your only option!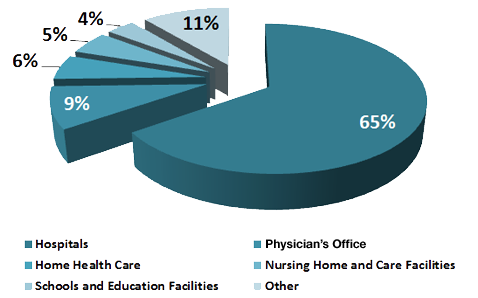 Nursing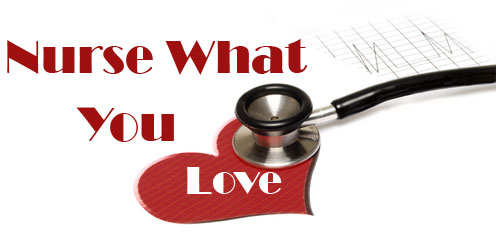 Nurses are essential partners in all areas of health care, and you can choose to specialize in an area that you're passionate about. Some nurses work with kids, some work with cancer patients, and others specialize in emergency care. Check out some of these common specializations.
Pediatric Nurse
Do you love working with kids? There are over 10,000 pediatric nurses working in hospitals and pediatrician offices around the country. You'll help doctors by conducting physical exams, treating patients, giving immunizations, and counseling families about health concerns. In order to be a pediatric nurse practitioner (PNP), you need to be a Registered Nurse and hold an advanced degree like a Master of Science in Nursing. However, you can be a general practice pediatric nurse with an ADN or BSN by getting a job in a pediatrician's office or pediatric department at a hospital.
Neonatal Nurse
While pediatric nurses work with kids of all ages, neonatal nurses and neonatal nurse practitioners (a more advanced designation) specialize in the care of newborns. Although duties can vary, neonatal nurses typically care for premature or sick infants. In order to become a neonatal nurse practitioner, you need to earn a Master of Science in Nursing and complete clinical training. You can work as a regular neonatal nurse with just a Registered Nurse credential, but some employers may require a Bachelor of Science in Nursing.
Oncology Nurse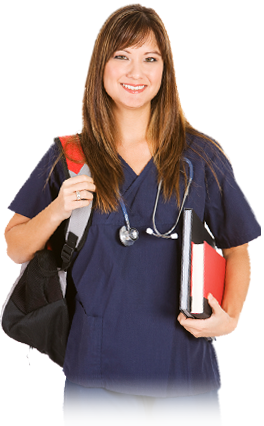 If you have compassion for cancer patients, you may be interested in working as an oncology nurse. You'll assist patients who are in the hospital, visiting an out-patient clinic, or in hospice. Your duties could include consulting with families and patients about care decisions, assessing patients' needs, and educating patients and families. In order to specialize in oncology, you should become a Registered Nurse; following that, there are several specialization certifications that would allow you to further your career.
Nurse Anesthetist
Nurse anesthetists are Registered Nurses (the full name is Certified Registered Nurse Anesthetist or CRNA). This specialization is right for you if you're interested in helping keep patients pain-free during surgery. You'll help surgeons and anesthesiologists in administering anesthesia, maintaining the medication, and overseeing recovery. The job outlook for CRNAs is bright because of the rising need for health care and the increasing preference of hospitals for CRNAs over anesthesiologists. In order to work as a CRNA, you'll need a Master of Science in Nursing, clinical training, and at least one year of experience working in an acute care nursing setting.
Emergency Medicine Nurse
Do you thrive in fast-paced, high-intensity settings? Emergency medicine nurses work in emergency rooms and trauma centers and treat patients with a range of conditions and needs. Because of the diverse needs on incoming patients, you may need certifications for different treatments, such as advanced cardiac life support, advanced burn life support, pediatric advanced life support, basic life support, and neonatal resuscitation. Before
Nursing
seeking certification, you should complete an ADN or BSN.
Get Out of the Clinic
Some nurses prefer to use their skills outside of the clinic or health care facility. If you don't want to work directly with patients, you have plenty of options. Keep in mind that most nurses transition to these other roles after several years of actual nursing experience and may need an advanced degree like a Master of Science in Nursing.
Nurse Educator
Nurse Research
Nurse Manager
Clinical Nurse Leader
More Options
These are just some types of nursing. Visit our nursing central to learn more about different types of nursing and to find the nursing school that's right for you.
---

A nurse's salary is determined by a number of factors, including level of education, geographic location, and type of employer.
| Type of Nurse | Bottom 10% | Median | Top 10% |
| --- | --- | --- | --- |
| Certified Nursing Assistant | $20,571 | $26,561 | $33,217 |
| Licensed Practical Nurse | $28,260 | $40,035 | $53,580 |
| Registered Nurse | $43,410 | $62,450 | $92,240 |
| Advanced Practice Nurse | $77,198 | $89,796 | $102,711 |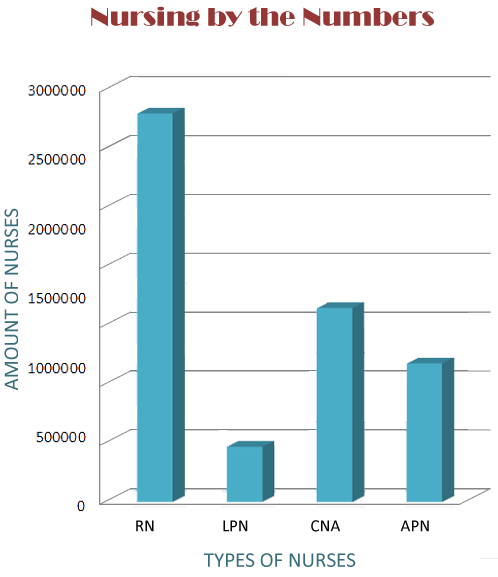 Nursing

Do I need a bachelor's degree to become a Registered Nurse (RN)?
You can become an RN with just an associate's degree in nursing. However, earning a Bachelor of Science in Nursing (BSN) could make you a more competitive job candidate and qualify you for advanced degrees. If you're already an RN, you can transfer credits from your associate's degree program and complete an accelerated BSN program, often called RN-to-BSN.
If I become a Licensed Practical Nurse (LPN), can I become an RN later?
Becoming an RN requires more education and training than becoming an LPN. In addition to the typical duties of an LPN (checking patients' vital signs, dressing wounds, collecting samples), RNs might consult with patients and families, administer medication, and put in IVs. To become an RN you need to complete at least an associate degree in nursing and pass the NCLEX-RN licensing exam. You could complete an accelerated degree program by transferring credits from your LPN training program.
I'm worried that changes in health care will make it harder to find a job as a nurse. Should I be?
Nursing is actually expected to increase over the next ten years. The U.S. Bureau of Labor Statistics expects a 22% growth in demand for RNs and 21% for LPNs and Licensed Vocational Nurses - compared to just 8% for retail salespeople or 10% for bookkeepers. Also, as budgets tighten at hospitals and health care facilities, duties that used to be doctors' are being transferred to nurses.

CampusRN will award a $1000 scholarship to a needy and deserving nursing student in each state on the anniversary of the launch of that state's customized site.
The AAMN offers a $1000 to male students pursuing professional nursing education programs. Applicants must already be enrolled in an accredited institution.
This scholarship is a one-time award given to students who are in financial need and accepted and enrolled into an accredited school of nursing.
ASHA provides financial assistance to students whose academic and professional goals include the health of youth. Applicants must be a college junior, senior, or graduate student enrolled full-time in an accredited nursing program.
The Foundation of the National Student Nurses' Association, Inc. offers several $1000-2500 scholarships available to anyone enrolled in a state-approved nursing or pre-nursing program at the associate, bachelor, master, doctorate or diploma level.
AANA scholarships are available to all nurse anesthesia students in good standing who are currently enrolled in an accredited program.
Nursing