Radiological Technology - A LearningPath.org Guide
Get Money
For School
Top-Growth
Radiology
Careers
Is Radiological
Technology the
Field for Me?
Editor's Note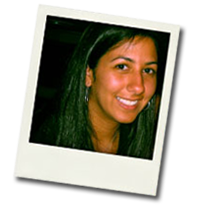 Dear Reader,
You've likely experienced an instance where you've needed an x-ray or been touched by someone who had cancer. The American Cancer Society estimates an additional 1,596,670 new cases of cancer will surface in America in 2011. With over 1,500 people dying of cancer every day, now may be the time to enter a radiology career - to help those with cancer, injuries and other diseases.
At LearningPath.org, we understand how difficult it is to make career decisions. It's also difficult to choose the educational path you must take for the career you've chosen. Because of this, we've compiled unbiased research about careers in radiology for you to consider. After checking out this e-guide, please look at our extensive bank of radiology articles.
We hope these pages help you find your path.
Happy reading,



Citlali Tolia
Lead Editor, LearningPath.org

Radiation Quick Facts
Airport backscatter security machines expose patrons to only 0.1 microsievert of radiation compared to the 100 microsieverts that patients are exposed to during an x-ray.
In Denver, Colorado and other high altitudes, people are exposed to more natural background radiation (cosmic rays).
In airplanes, people are exposed to radiation from outer space, the sun and the stars.
As of 2010, the American Registry of Radiologic Technologists registers over 300,000 technologists each year.
Over 65,950 certifications have been issued by the American Board of Radiologists since 1934.
Radiological Technology
Radiologist Traits
Radiology careers require varying traits. If you check 12+ of the following traits, a career in radiology may be for you.
Radiology Job Options
Nurse
As a caregiver, nurses provide aid to hospital staff, patients and physicians. As a radiology nurse, you may work in surgical oncology. You'll observe patients, explain procedures, prep for operations, speak with families and be a mediator between doctors and patients.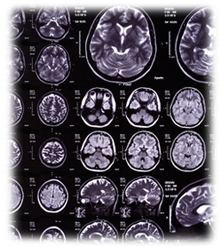 To become a nurse, you'll need to complete a nursing degree, clinical experience and earn certification as a registered nurse before seeking certification as a radiology nurse.
Radiologic Technologist/Technician
Those who run the diagnostic tests for radiologists are radiologic technicians or technologists (also known as radiographers). Technologists have more responsibilities than technicians. As either, you'll use diagnostic radiologic tests, such as X-rays, computed tomography (CT) scans, mammography and magnetic resonance imaging (MRIs) to diagnose ailments of the body. You'll typically specialize in one diagnostic test. Certification for these specializations can be earned after you've completed a degree program in radiography.
Radiological Technology
Radiation Therapist
Patients with cancer rely on radiation oncology teams to treat their diseases. As a radiation therapist, you'll be a part of this team. You'll target cancer cells and administer radiation in the patient. During the treatment, you'll observe patients for any adverse reactions. You'll work very closely with patients, sometimes seeing them up to 40 times during their treatment. According to the U.S. Bureau of Labor Statistics (BLS), as of 2009, 33 states required radiation therapists to be licensed (www.bls.gov). Licensing typically requires you to have an associate or bachelor's degree in radiation therapy.
Radiologist
Becoming a doctor is a lengthy process and can lead to a number of career specialties. Along with a medical degree (M.D.) and licensing, to become a radiologist you'll need to finish a fellowship as a physician, where you'll complete the last two years of your clinical experience in a radiology department. You'll then complete a residency and certification in the specific area of radiology you wish to treat such as pediatrics, oncology, vascular radiology or neuroradiology.
Radiology Specializations
Vascular/Interventional Radiology
This sub specialty of radiology involves the heart and arteries of the body. Using catheters and other small devices, you'll perform minor invasive procedures to find abnormalities. These vascular procedures are so noninvasive that they can often be done without anesthesia.
Pediatric Radiology
If you prefer to work with children, perhaps pediatric radiology is your radiology sub-specialty. You'll work with infants, children and adolescents to find anomalies in their developing bodies. This sub-specialty encompasses many aspects and diagnostic tests, just like diagnostic radiology. Some of the topics you'll study include neurosciences, neonatal, oncology and disease.
Radiological Technology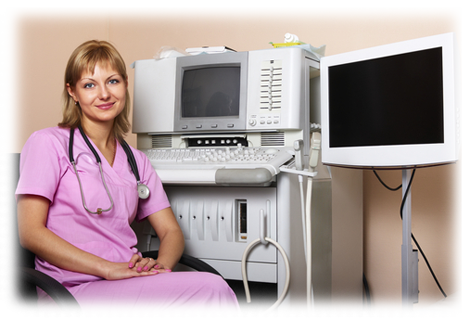 Nuclear Medicine
Using a radiopharmaceutical that is either orally or intravenously given to a patient, radiologists track the movement of the gamma rays to uncover anomalies, cancers or abnormal functions of organs. This test is called the position emission tomography (PET) scan. In a nuclear medicine residency, you'll spend the majority of your time with PET scans, though some lecturing and time with other diagnostic tests can be expected. Upon completion of your residency, you should be eligible to sit for the American Board of Nuclear Medicine certification exam (www.abnm.org).
Radiation Oncology
Along with other diagnostic imaging tests, you'll spend time studying molecule radiology, radiation oncology, radiation therapy, brachytherapy (when radiation is placed on cancer cells) and dosimetry (the dosage of radiation) during your residency. The majority of your time will be familiarizing yourself with patient care. You'll learn how to speak with patients who are diagnosed with cancer, track progress through treatment, learn how to admit patients, experience complications and gain an understanding of recurrences. Research and lab work are encouraged.
Radiology Degree Options
Certificate
Though an associate degree is usually the minimum requirement for a radiologic technician, certificate programs in diagnostic imaging are available. These radiology certificate programs can take up to two years and prepare you to sit for the diagnostic imaging certification exam. You can also earn a radiology technology certificate, which includes clinical experience and training on multiple diagnostic imaging machines.
Associate Degree
An associate degree program is for those who are interested in becoming a nurse or a radiologic technician. An Associate in Nursing (ADN) is typically the springboard to a career in nursing. To enter a program for registered nurses (RN), you must be a licensed practical nurse (LPN) or have taken a placement exam (ACT or SAT). These programs include clinical experience and prepare you to sit for the NCLEX-RN licensing examination.

Radiological Technology

Bachelor's Degree
Prospective nurses, radiologic technologists and radiation therapists can gain training through a bachelor's degree program. A Bachelor's in Radation Therapy prepares you for the certification examination for radiation therapists. You'll learn how to use radioactive isotopes, x-rays and electron beams to attack cancer cells and treat patients. YOu will also acquire essential patient care, communication and critical thinking skills. These programs include clinical experience in the field.
Doctor of Medicine
Medical degrees, also known as Doctor of Medicine degrees, stray from traditional education. Typically, students skip the master's degree and dive directly into doctorate courses. Before enrolling in a Doctor of Medicine program, you should first complete a bachelor's degree heavy in science courses and then sit for the Medical College Admissions Test, commonly referred to as the MCATs. These doctorate programs include a fellowship or intense clinical rotations and classroom experience.
Continuing Your Education
In order to earn licensure and certification as a radiologist, you must complete years of clinical training with a radiology fellowship and residency. As a fellow, you'll complete rotations under the guidance of a licensed teaching physician. As a resident, you'll study your sub-specialty, such as pediatric, vascular radiology or nuclear medicine. Both are paid positions.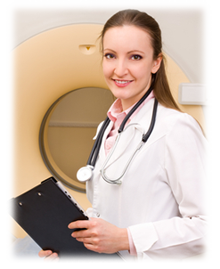 Radiology Licensing &Certification
To become a radiologist, you must first become a licensed doctor by completing the three steps of the United States Medical Licensing Examination (USMLE). To be eligible, you must have completed your medical degree with an accredited college. After you've completed your residency, you can sit for a diagnostic radiology or sub-specialty certification exam through the American Board of Radiology, which is good for ten years.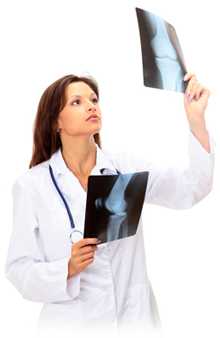 The National Council of State Boards of Nursing offers the NCLEX-RN exam to become a registered nurse which is often used by state licensing boards. The Radiologic Nursing Certification Board provides certification exams to registered nurses who have 2,000 hours of clinical radiology experience.
The American Registry of Radiologic Technologists (ARRT) offers exams for both state licensing and certification. To be eligible, you must have completed a degree program in radiology technology and completed a number of procedures as proof of your experience.
Radiation therapists can seek certification with the ARRT. You must complete your degree program and prove your competency through clinical experience prior to the exam. This is valid for one year.
Radiological Technology
Certification vs. Licensure
| Career | Is Licensure Required? | State Licensing Exam |
| --- | --- | --- |
| Radiology Nurse | Yes | NCLEX-RN |
| Radiologic Technologist | Yes, but varies by state | ARRT Radiography |
| Radiation Therapist | Yes, in 33 states | ARRT Radiation Therapy |
| Radiologist | Yes | USMLE |
Career
Is Certification Required?
Where to Seek Certification
Radiology Nurse
Yes
The Radiologic Nursing Certification Board
Radiologic Technologist
No
The American Registry of Radiologic Technologists
Radiation Therapist
Yes, in some states
The American Registry of Radiologic Technologists
Radiologist
Yes
The American Board
of Radiology
Certification Exam Results
Number of People That Passed the 2010 Exam
| Certification Sub-specialty | Exam Type | Passed / Taken | Percentage Passed |
| --- | --- | --- | --- |
| Vascular/Interventional | Oral | 88/92 | 96% |
| Pediatric | Written | 47/47 | 100% |
| Diagnostic | Oral | 1,225/1,127 | 92% |
| Medical Physics | Oral | 169/319 | 53% |
| Neuroradiology | Oral | 163/175 | 93% |
| Radiation Oncology | Oral | 122/143 | 85% |
Radiological Technology
INSIDE Track
While becoming a doctor requires years of study and clinical experience, there are some options that can improve your work as a doctor. The following are a few ideas that may help you on your road to becoming a radiologist:
Earn Your Stripes
Once known as candy stripers, the modern term used for hospital volunteers is junior volunteers. Doing volunteer work in a hospital setting provides valuable experience while helping a cause you're passionate about. You can work in gift shops, information kiosks and patient care. Develop patient care skills and shadow doctors by doing small tasks, such as restocking, answering phones, faxing or running errands.
Learn a Language
Metropolitan hospitals are a melting pot of patients. As any medical personnel, you'll meet non-English speaking patients. Even if they speak English, they may be more comfortable and better understand terms when speaking in their native tongue. Consider learning a second, third or even fourth language so you can speak to your patients with ease. Research ethnicities in your area to see which languages would benefit you best.
Technology Savvy
Doctors are not often seen with mechanical grease on their hands, but it doesn't hurt to get dirty. You'll likely be in the middle of a procedure, report or check-up when your computer freezes or a machine crashes. Rather than reschedule the procedure or make an already nervous patient wait for a tech - work on it yourself. During your program, seek electives that cover biomedical technology to make small fixes.
The Career Wizard
What is a radiologist assistant?

A radiologist assistant is an advanced radiologic technologist, though their responsibilities are larger and involve more patient care. Often, radiologist assistants act as a mediator between the radiologist and the technologist. Radiologists may ask you to take further diagnostic tests, prepare a patient for a procedure, receive consent forms and medical history from patients, make initial observations of the test results and speak with family members when necessary. In general a radiologist assistant is a technologist who has advanced his or her education with a radiologist assistant program, additional experience and certification.

What does the MCAT contain?

The Medical College Admission Tests, often called the MCATs, are used by medical schools to distinguish how well you'll do in a medical program. This multiple-choice exam tests you on your science knowledge, communication skills and critical thinking skills. The exam scores are categorized as biological sciences, writing, physical sciences and verbal reasoning.

What is radiation and is it dangerous?

Radiation is considered any source of energy given off by another source. There are two types of radiation: ionizing and non-ionizing. Commonly, ionizing radiation is believed to cause cancer when a person is exposed to too much of it. Some of these sources are x-rays, Gamma rays and UV rays. With low-frequency radiation, such as micro, radio and infrared rays, people can sustain more exposure without risk of cancer. In fact, every day you are exposed to radiation from cell phones, radios and computer screens - and these are not considered dangerous.
Radiological Technology
Professional Radiology Organizations
Professional organizations can aid radiologists, radiology technicians and radiology nurses with certification, career entry, continuing education, professional development and more. Below are only a few of the many professional radiology organizations:
Working to make radiology a safe medical option, the American College of Radiology provides resources, job openings and government advocacy information. This organization aids residents, physicians and patients.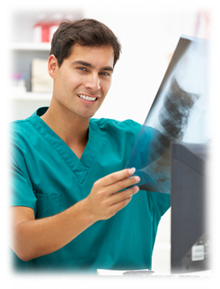 The Radiological Society of North America tries to provide the most current research on radiology for scientists and doctors. They also provide certification and education opportunities.
If you're considering becoming a radiologic technologist, consider membership with the American Society of Radiologic Technologists. They offer links to jobs, resources and publications and also provide continuing education opportunities and conference information.
Nurses can look to the Association for Radiologic and Imaging Nursing for scholarship, journal, convention, resource and job opening information.
Scholarship Central
This scholarship is provided by the Association for Radiologic & Imaging Nursing (ARIN). Each year an ARIN member who wants to further his or her nursing education is awarded $600. You must be an ARIN member for at least three years to be eligible.
The American Society of Radiologic Technologists began this branch to offer scholarships and grants to entry-level and professional students studying radiology technology.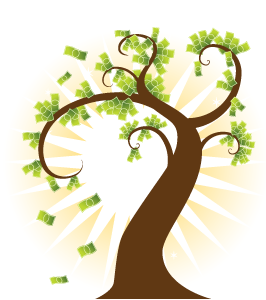 Along with the $4,000 Royce Osborn Minority Student Scholarship, ASRT also offers a $5,000 scholarship for radiation therapy students.
The Radiological Society of North America (RSNA) Research and Education Foundation provides medical students with the means to complete research work in radiology. A grant of $3,000 goes to the recipient, whose eligibility hinges on being an RSNA member.
Offered through the American Academy of Oral and Maxillofacial Radiology (AAOMR), graduate students of an oral radiology program can receive a $5,000 scholarship. You must be a member of the AAOMR or be in the process of becoming a member to be eligible.
Radiological Technology